October 1st hits and it's all about pumpkin spice for the whole world, except for me. The only three things that I like with pumpkin spice are my pumpkin pie, creamer or pumpkin cookies. And I eat pumpkin cookies all year long. They make a nice treat for camping or backpacking or a yummy snack while hiking. These cookies store nicely, so that they don't break or crumble and travel well. I also really enjoy them as a quick breakfast with coffee and my kids love them with hot cocoa when we are camping. I  make these cookies regularly for fundraisers, bake sales, potlucks, kid functions and just for fun.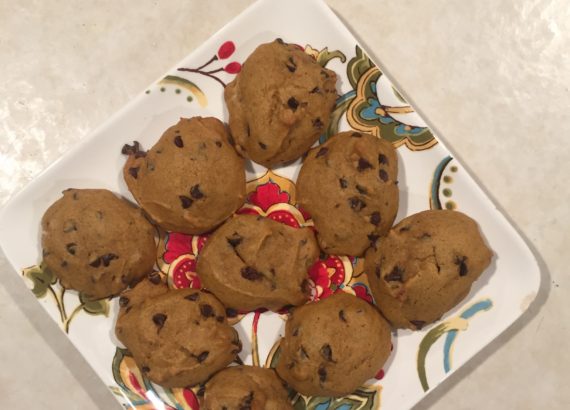 Please note, this post may contain affiliate links. By clicking on those links, I may earn a small commision at no cost to you.
These delicious cookies are definitely my go to. They are super easy and make a large amount. I can easily double the batch when needed, which if I'm making them for something other than just my family to eat, I have the double the batch anyway so that my kids can have some too. They are that good. I often go to thrift stores and found this recipe in an old cigar box, on an index card splattered with grease stains. Someone else obviously loved this recipe too. I did make a few changes.
Mama Bear's Pumpkin Chocolate Chip Cookies
Prep time: 10 minutes Bake time: 10-12 minutes per sheet
Makes between 2-3 dozen
Ingredients
1 cup pumpkin (canned)
1 cup white sugar
1/2 cup vegetable or canola oil
1 egg
1 tbsp. vanilla or vanilla extract (if using vanilla extract, I add an extra tsp.)
2 cups flour
2 tsp. baking powder
1 tsp.  cinnamon
1 tsp. pumpkin spice (if you don't have pumpkin spice, just mix together ¼ tsp. ground cinnamon, ¼ tsp. ground nutmeg, ¼ tsp ground nutmeg and ¼ tsp. ground ginger)
1/2 tsp.  salt
1 tsp. baking soda
1 tbsp. milk
2 cups mini chocolate chips
Instructions
1. Pre-heat oven to 350°F. Line a baking sheet with parchment paper and set aside. DO NOT GREASE PARCHMENT PAPER.
2. Combine pumpkin, sugar, vegetable oil, vanilla and egg in a large bowl with beaters on low or a spoon. Mix until combined and smooth.
3. Add to the pumpkin mixture flour, all of the other ingredients except for the milk and chocolate chips. Add milk after all ingredients are well blended, this will make the texture sticky.
4. Add chocolate chips and stir until combined. ** if doubling, I would only put in 3 cups of mini chocolate chips.
5. Drop cookies on cookie sheets about 2 inches apart using a teaspoon. Bake for 10-12 minutes, or until a toothpick or knife comes clean. Cool on the pan for 2 minutes and then transfer to a cooling rack.
6. After cookies are done cooling, store in air-tight container up to one week. If cookies are not completely cool, they will stick together. I also like to eat the cookies warm with a dollop of whipped cream on top.