When we were growing up in Montana, my mom made sure that she always made Jewish food during the Jewish holidays. The only holiday we actually celebrated and she just didn't make food, was Hannukah. I don't even think there is a correct spelling for Hannuakah because there are so many variations. And now after reading this, you are probably thinking with Montana being the third least-populated state, how in the world are there Jews here? Well, I'm third generation Montanan, and there still aren't many Jews in Montana.
My mother's family didn't really celebrate any of the Jewish holidays until they moved to Israel in 1973. There is where my mom learned the most about Jewish traditions, including all the recipes that you make during the holidays. And everyone knows, Jewish holidays are all about food (and wine…). Shavuot revolves around cheese and cheesecake, Log B'Omer is all about barbecue and Hannukah is all about deep fried food.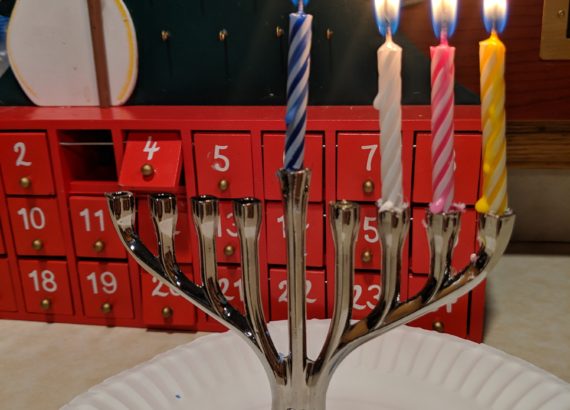 At Hannukah time, we would light the candles and my mom would give us one present per night, like a candy car or a new pair of socks. She would also make at least for two nights the traditional donuts and potato pancakes, also known as latkes or levivot. Hannukah is usually sometime in December and rarely falls on Christmas. There is nothing like crispy, potato yumminess topped with jam, apple sauce, sour cream, apple pie filling or more to get me into the holiday spirit. I also make these at Christmas too or when I want something fun for dinner.
Please note, this post may contain affiliate links. By clicking on those links, I may earn a small commision at no cost to you.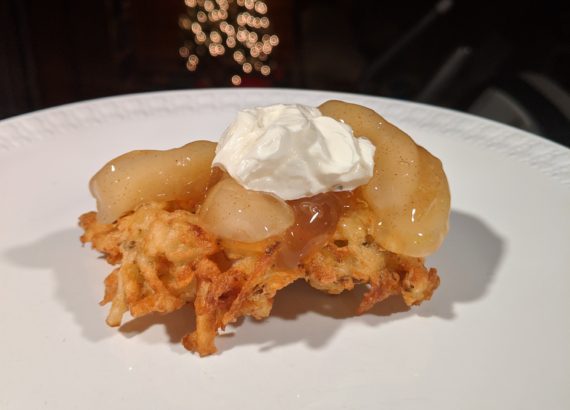 Hannukah Latkes
Makes 12-14
Prep time: 30 minutes Total cook time: 20 minutes
Ingredients
5 medium potatoes (I usually use russet potatoes)
1 small onion
2 eggs
5 tbsp. flour
Salt and pepper to taste (I have started using Alpine Touch, a seasoning salt made in Montana instead, you can find this online, at Costco or at any gas station in Montana)
Oil (preferably peanut or vegetable oil)
Toppings of your choice: jam any flavor, apple pie filling, apple sauce, sour cream, ham or Canadian bacon, ketchup
Directions
1. Wash the potatoes and grate them along with the onion. Put into colander and rinse well with cold water to remove excess starch and let sit for about 15 minutes to drain. Pat dry.
2. Mix potato in mixture with eggs, flour and seasoning in a bowl.
3. Heat oil. A deep fryer is preferred and heat oil to 350 degrees. You can also use a heavy-duty frying pan or pot. If using a frying pan, I use my cast-iron one and only put a quarter-inch of oil in the bottom. Remember to use metal utensils because plastic will melt.
4. Pat mixture into 3-4 inch pancakes about ¾-1/2 inch thick. Set gently in deep fryer or frying pan. If using a frying pan, flip over after it's golden brown on bottom. It take about 3-4 minutes to cook each latke.
5. Remove from oil and place  onto paper towel. Serve warm with toppings over your choice. This year we used apple pie filling and sour cream.