When Niva was born in 2010, I was so hesitant about getting her outdoors and put most of my adventures in the mountains on hold. She was almost two years old, when we started taking her camping and five when we first took her backpacking. With Eli in 2016, we were more sure of ourselves, and he went on his first camping trip at two months and backpacking when he was two. It's hard to take young children to explore outside and experience nature, but if I had known what I know now, Niva would have been out on adventures much earlier. The difference between now and then is that I knew more about outdoor gear in 2016 than I did in 2010. It's all about having the right equipment.
One of the items that I wish that I had had when Niva was a baby, is the Humble Bee Free Spirit SP Diaper Backpack. Who would have thought that a diaper-bag-turned-backpack would be so convenient? For when you are juggling a car seat in one hand and fumbling for a door or going on outdoor adventures or traveling by car or plane, this is something that new or experienced moms should check out. It makes life easier and being on the go much more manageable. **Please note, this product was sent to me to review free of charge. All opinions are my own. This post may contain affiliate links at no cost to you.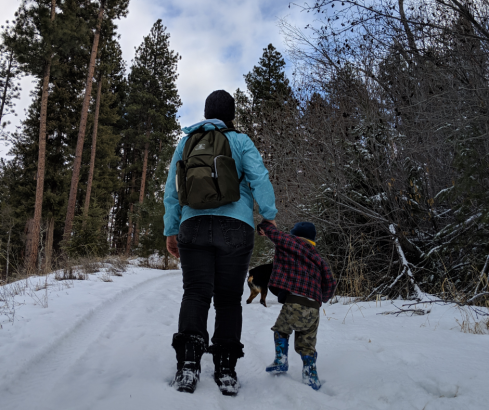 The Humble Bee Free Spirit SP Diaper Backpack
The whole design of this backpack is very thoughtful and keeps busy and outdoorsy moms in mind. We decided to take this diaper bag backpack to test on several of our adventures to see what we thought: a day hike, ice fishing, a basketball game and running errands. And all I can say is that this would have been very helpful for when Niva was little. It would have made my life more effortless daily and made my outdoor adventures much more feasible. I am glad this is something I can use now with Eli. It makes our adventures and lifestyle less challenging, especially with a baby or toddler in tow. We absolutely loved this pack and here's why:
Please note, this post may contain affiliate links. By clicking on those links, I may earn a small commision at no cost to you.
Lightweight– This pack weighs 0.8 pounds and combined weight of 1.9 pounds with all the extras. Most diaper bags average between 2-4 pounds. It's lighter than most day packs too.
Hands-free And Comfortable– It is so nice to not have your hands full with kids and their stuff. Carrying around both a diaper bag and a car seat or holding a toddler's hand can be difficult especially when you are opening doors or looking for your keys or wallet. With easily adjustable straps, I didn't have to juggle anything and did not have my hands immobilized. I finally had two free hands again. The padded straps make it so that it doesn't dig in to your shoulders and I was easily able to hike 2 miles with a toddler hanging onto it with no problems. The bag of it is also nicely padded for more comfort. The front compartments and side pockets are easily accessible as well. It is not bulky either like many diaper bags and backpacks.
Organization– There are a lot of different pockets including a cold storage pocket that's great for a water bottle or baby bottle. It has four zippered compartments of different sizes including the main compartment, four inside pockets and another side pocket for the changing kit. The main pocket is also large enough for a laptop and I easily was able to put in a water bladder when hiking. The pack also easily stores two water or baby bottles on the side pockets. With all the different compartments, it is easy to keep things organized and has more pockets and compartments than most diaper bags. The pack also comes with a changing kit, which is a pouch that you can store several diapers, a pocket for a trash bag and/or ointment and holds wipeys. I thought the changing kit was a genius idea and it keeps all your diaper changing stuff in one place.
Versatile– This diaper bag can be used as it is intended or as a day back for hiking. Just for fun, I tried attaching it to my kid carrier and to my stroller, and it worked great. It's light weight enough that my eight-year-old can carry it as a day pack. Most diaper bags can only really be used as a diaper bag and once a child grows up, you can't really use it.
Durable And Easy To Clean– I found it extremely durable. The fabric is durable and besides water, also repels oil, mud and grease. One of the kids got fish guts on it and I threw it in the washer with no problem It came out as clean as when I got it. The fabric also easily wipes clean after most dirt and sticky fingerprints. It kept everything nice and dry from the snow and ice because the material is also water repellent. Water resistant is nice to have, especially with kids and the fact that everything seems to get spilt wherever you go.
Design-There are reflective strips along the zipper for more visibility at night which is a nice safety feature. This diaper bag includes a changing mat, 2 stroller straps, a removable changing kit, and a cold/hot pack. It also comes currently in black, olive or gray. It weighs 0.8 lbs, the dimensions for this pack are 13' x 7.6' x 16.5' and the volume is 20L. All the seams also appear to be doubled and reinforced to reduce snagging an fraying. It is not made of cheap nylon like so many other packs that are found on the market. The quality of this product reminds me of how things were made years ago to last for a long time. The portable changing pad is very soft and light.
I really liked this diaper bag. It is designed well and worth the expense, especially if you had to buy both a day pack and a quality diaper bag. This pack also looks very stylish and sleek. I can still use it while Eli is a toddler and then use it as a regular day pack later. What I would love to see, is if Humble Bee would come come out with a backpacking carrier for kids. It would be exciting if they did, based on the innovation of this pack. It would also be great if they developed a backpacking pack for a multi-day trip as well.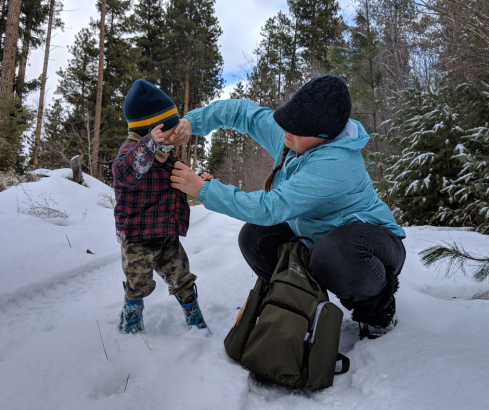 I would recommend this for any mom who is on the go. It's nice to have if you are outdoorsy, but also nice to have if you are busy and on the go. Moms must juggle lots of things, and this diaper bag makes things a lot easier because the design is mom-friendly. You can buy this item here.
Humble Bee, "Adventure begins at where you envision with a humble heart", believes in parents staying active and exploring with their children. For more information and more products, you can visit them at https://humble-bee.com/ or follow them on Instagram and Facebook. I am a fan of adventure too!