It seems like every year, more and more candy is on the store shelves during Easter. I like a little bit of candy, but I think it is just too much of a sugar overload during the holidays. Especially Peeps!!! I even saw pancake and syrup flavored ones this year. I do not even know what to say about that… And besides the candy, you have all of these big, commercial baskets with stuff that the kids don't even really need or use. So, because of this, we do our baskets a bit differently. I make our own baskets, we do the egg hunt (with money) and a really big family dinner.
I use Easter as a way to get my children useful items for the summer. I usually get them a toy, a book, foot wear, and a clothing item. If they need something new for our outdoor adventures, I get that for them too. I prefer to get them useful items and if possible, something educational or to get them outdoors. Here are a few suggestions that are practical and/or fun and do not contain sugar. **Please note this post may contain affiliate links at no cost to you, but by which we can earn a small commission.
The Easter Basket– Instead of the traditional basket, I like to get the kids something they can use. At the least, I will get them a plastic bucket if I need new pails or buckets for the garden or chickens. Buckets are a great item to take camping, not just to haul water or do dishes, but the kids have a blast filling them with tadpoles or dirt. Some other alternative basket ideas are rain boots or a new boonie hat or sun hat. If I can, I try to get these items in the fall when the seasonal stuff goes on sale. Another useful item is new hiking backpacks or overnight bags for travel or camping.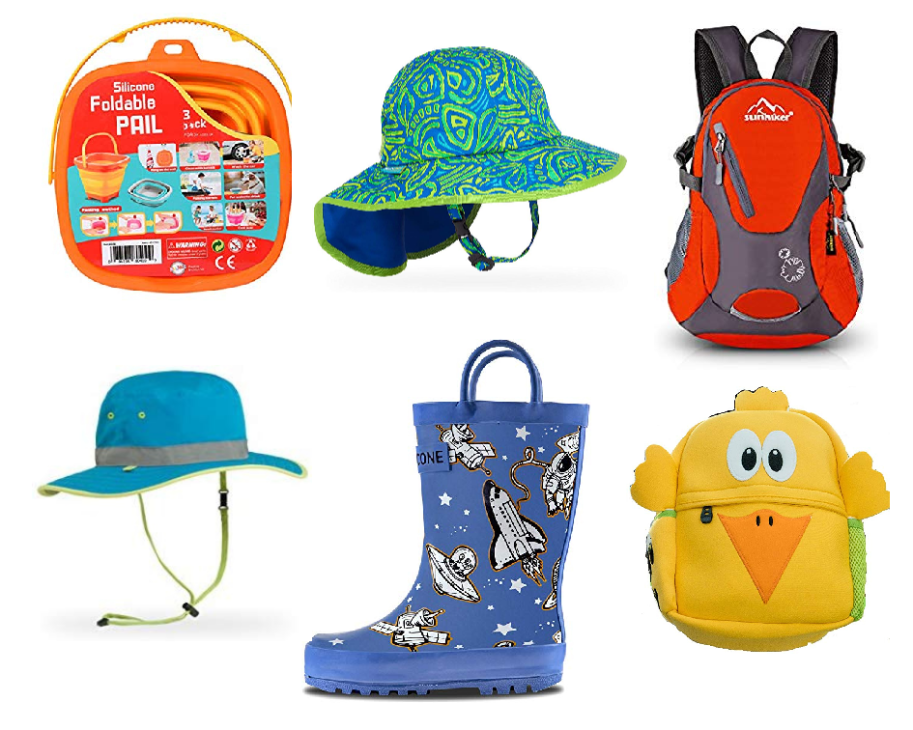 Clothing– My kids grow like weeds. Easter is when I get them new sandals or flip flops for the summer. I like closed toe sandals because they are more sturdy than flip flops and last all season, but flip flops are fun for around the house and in the yard. I try to get them at least one or two fun t-shirts for spring for our little boy and daughters. Bandanas are a fun clothing-type item to get. Bandanas are nice to have because they have so many uses, like a rag or makeshift tourniquet or a blind fold for hide and seek.
Please note, this post may contain affiliate links. By clicking on those links, I may earn a small commision at no cost to you.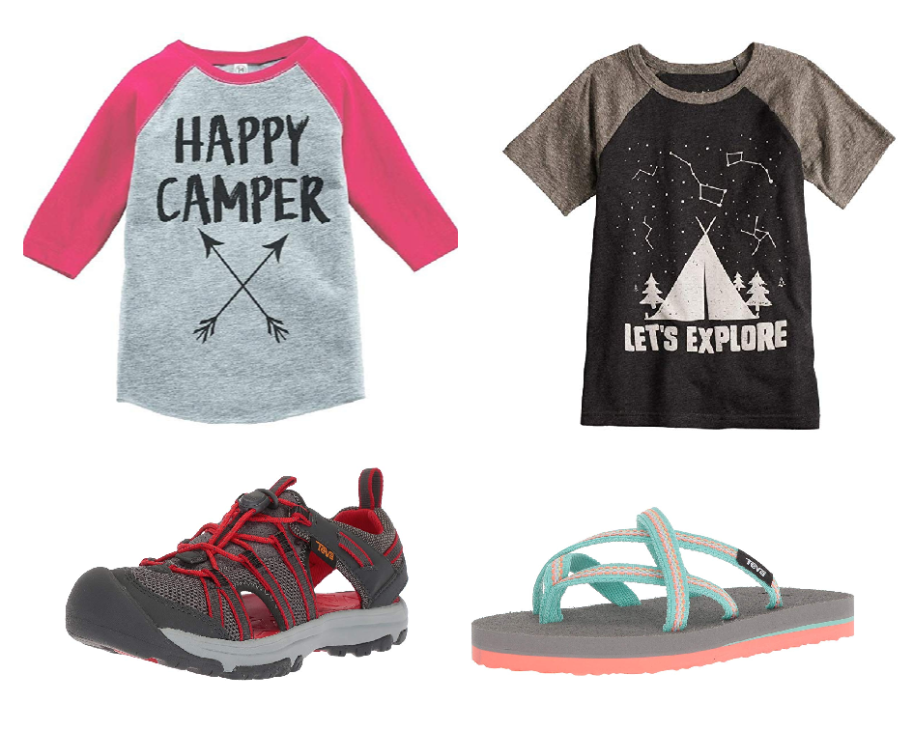 Outdoor Gear and Toys– I like to also get them something that they can use when we are camping, hiking or at the lake. One useful item is a water bladder because it is important to stay hydrated. Some fun and practical items to have are walkie talkies and binoculars. Our kids love to watch wildlife and birds and walkie talkies are helpful to have if you have slow hikers or the campsite is large. And what kid doesn't love bubbles, especially when you are outdoors? Plus, we also like paddle ball at home or wherever we go.
Games or Fun Stuff– When we go camping or even backpacking, we like to take a pack of cards. Besides regular decks, we sometimes take UNO, Go Fish or our new favorite is Exploding Kittens, which get pretty hilarious and loud. I sometimes get the kids activity books or madlibs just for fun, that they can do in the car or when they are just hanging out quietly. Another good idea is to get something craft like a birdhouse kit or I also like to get them seeds or plants.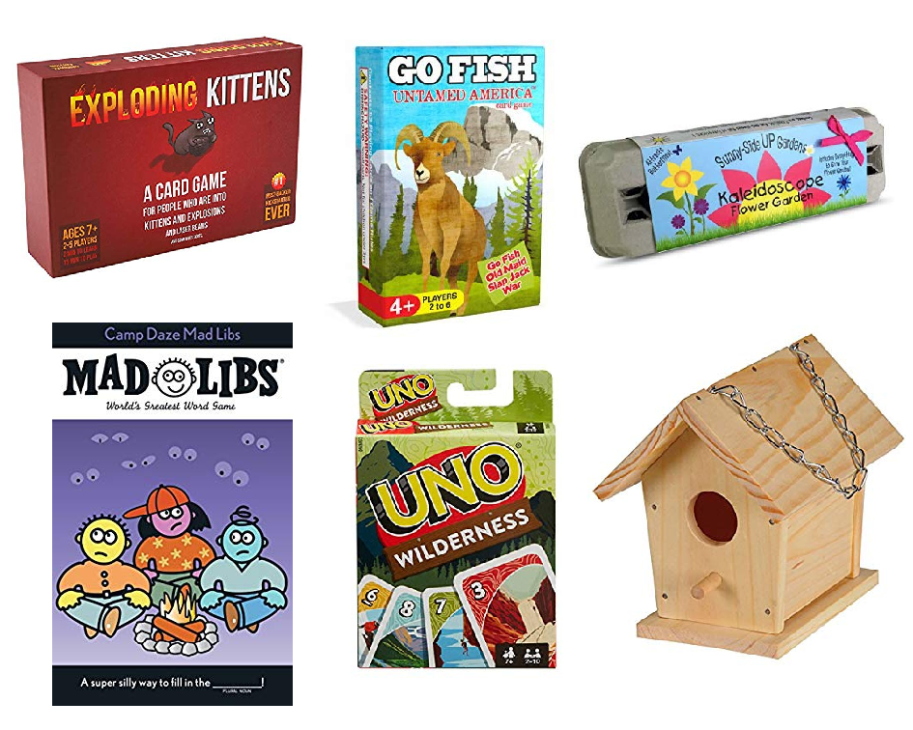 Books– There is nothing like a good book for kids to have. It's even better if they learn something from it. There are a few that are on our list this year. Most of them are about things in the outdoors. And, I can never get just one book, so this year I picked six: "Wishing On A Star- Constellations Stories", "The Lost Book Of Adventure" (I am really excited about this one), "Backpack Explorer- On The Nature Trail", "The Ultimate Book of Every day Knots", "Backyard Birds" and "The Kids Campfire Book".
Some other great ideas that don't focus on the outdoors are new socks and underwear, shorts and play dresses if you have a girl, kites, small crafts, art supplies, sunscreen and bug spray, sidewalk chalk, balls, sand toys, croquet or lawn darts and other yard games, flashlights and headlamps. I try to get items that are useful and practical. What other ideas would you add to this list? Have a fun and Happy Easter and as always, be outside with no limits. Love, Pauline