Grief and loss for a loved one, are something that I do not think anyone is prepared for. A dear friend of ours that shared my love for the outdoors and Montana, suddenly passed away in December. None of us were prepared, and it has affected our familial group. Our extended family consists of members that we have known our entire lives, and his death was as devastating as if it had been a blood relative. He was the one who had introduced me to the books from author Pete Fromm, who wrote "The Indian Creek Chronicles" (previously featured in Books For Adventuring Bookworms) and the author of newly released "A Job You Mostly Won't Know How To Do".
I have been a fan of Pete Fromm since I read the "Indian Creek Chronicles", so when I was asked to review his newest book about Montana and loss of a loved one, I was very excited. He is a brilliant author and I am a bit of a fan girl, but I felt that it was also a way to come full circle in my current journey of grieving. I think my friend would have loved this book as much as I did. There is crying and loss, and happiness and hope. There are breath-taking descriptions of Montana's wild landscapes and heart wrenching descriptions of the harsh scars of wildfires left in the forests. And a little bit of fishing too… **Please note, this book was sent to me to review, at no cost. This post contains affiliate links at no cost to you but by clicking, I may earn a small commission.
"A Job You Mostly Won't Know How To Do" By Pete Fromm
Please note, this post may contain affiliate links. By clicking on those links, I may earn a small commision at no cost to you.
From the back cover: "Five-time winner of the Pacific Northwest Booksellers Association Book Award, Pete Fromm returns with his big-hearted new novel, a love story about family and resiliency and second chances. For young couple Taz and Marnie, their fixer upper is the symbol of their new life together: a work in progress, the beginning of something grand, all the more so when they learn a baby is on her way. But the blueprint for the perfect life eludes Taz when Marnie dies in childbirth, plummeting the taciturn carpenter headfirst into the new, strange world of fatherhood alone, a landscape of contradictions, of great joy and sorrow. With a supporting cast as rich and compelling as the wild Montana landscape, the novel follows Taz's first two years as a father – a job no one can be fully prepared for."
About the book: Taz and his wife Marnie live in a small town in Montana, trying to make ends meet and renovate their fixer-upper. They have big dreams for their house and for the future. When they find out they are having a baby, Taz doubts himself, but it becomes worse when Marnie dies in childbirth. Taz struggles to be a good parent, but is drowning in his grief and has little support except for the tribe he has inadvertently built and soon realizes that it takes a village. Help comes to him from unexpected people. Pete Fromm takes you on a journey from when a person is at their lowest point to when they finally realize there is hope, and reflects that resiliency and healing are things that can come from tragedy.
My thoughts on this book: This book paints the picture of modern Montanan life. Taz is a struggling construction worker like most men are in this state and loves the outdoors. Like the modern Montanan, he is an old soul in a complicated world. Fromm's description of the areas is so accurate and I can see the landscape as clearly as if I was there. We all fear losing a loved one, but for Taz it is particularly hard because he is left with a baby to raise all by himself. He is lost and lonely. His immediate family is of little support, and those around him chip in to help him in his new role as a father and grieving, young widow. Not only does Taz learn and grow, but his tribe does as well. Fromm emphasizes the Montanan values of neighbors helping neighbors and the positives of small-town Montanan life.
Make sure you have a box of tissues. This book is raw and emotional and you will cry and laugh and cheer Taz on because you want him to make it. You want to Taz to be a good dad and find a reason for living. The reader will become Taz's cheerleader just like his friends in the book. It is amazing how we as people can be at our lowest points, but are able to find our way back. The ending was a little different than what I expected, but it was a good ending, leaving me satisfied. This is not typically a book I would normally review, but I am glad I reviewed it. And is does have fishing, hiking and Montana in it. 🙂
If you are looking for a new book to read this summer, whether it is in the car or on your porch and or when you are camping, this would make a great read. Read it! Read it! Read it! I promise you will love it. This book is easy to read and Fromm is able to keep you engaged until the very last page. Fromm is originally from Wisconsin, but currently lives in Montana with his family and is currently on the faculty of the Pacific University's low-residency MFA program. You can visit Pete Fromm at his website, petefromm.com. On his site, Fromm strongly encourages readers to purchase their books at local bookstores. I am hoping to meet him and maybe get a selfie this week when he visits our local book store, as part of his Northwest tour. If you do read this book, be sure to leave a note in the comments. I hope you love it as much as I did. Love, Pauline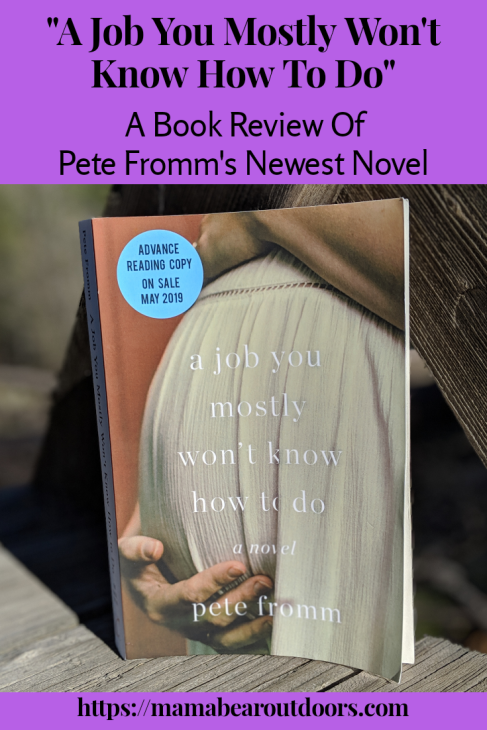 Update: I got to meet Pete Fromm just before his reading at Chapter One Bookstore. I got my selfie…