It is almost Father's Day, so it is time to find that perfect gift for the dad that loves being outdoors. My husband is pretty outdoorsy and loves so many outdoor activities like hiking, camping, backpacking, fishing, off-roading, kayaking and snowboarding. He's not much of a skier, but he really does love hiking. This is the time of year, besides birthday and Christmas, that I get him new gear or t-shirts. Socks, beanies and snowboarding accessories are more of a winter thing, so Father's Day gives me the opportunity to buy him items he'll use throughout the summer season.
Throughout the year, I create a secret wish lists of items, so that he doesn't know what things I want to get him this year for special occasions. These are either items I have seen others using or wearing, or something my husband has talked about needing or wanting. He's pretty savvy when it comes to outdoor adventures, so here are ten things that I have added to his wish list this year. It is a great list for women too, or anyone who enjoys the outdoors. That growler, any beer loving man would love it. **Please note, this post may contain at no cost to you, affiliate links and by clicking on them, we might earn a small commission.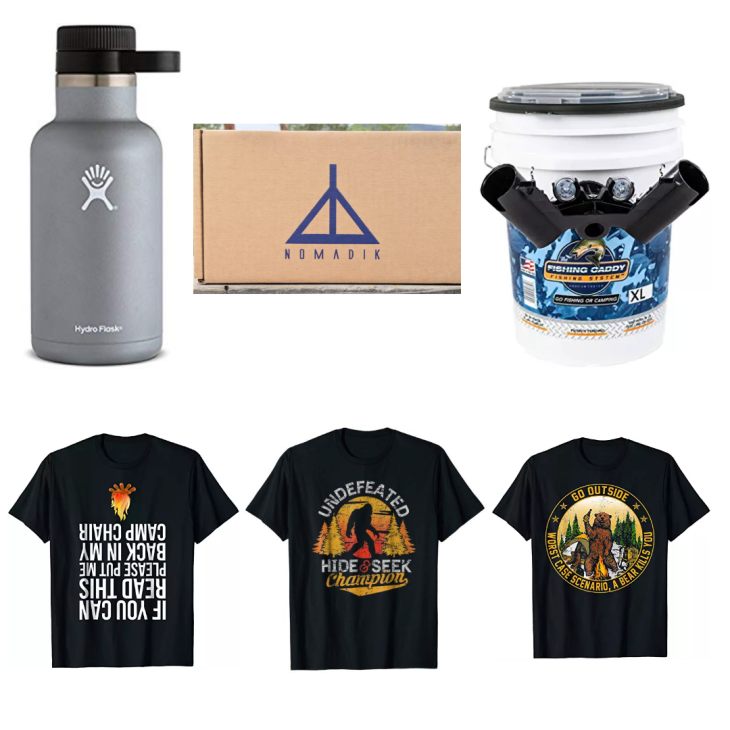 Hydro Flask Growler– Not only great for keeping your water cold, but it sure is nice to have your favorite on-tap beer handy. Filling up a growler at your local micro-brewery is not only cheaper, but it is also reduces waste. My husband would much rather fill a growler at our local brewery and support a local business, than buy cans or bottles from a large cooperation. This growler is perfect for a weekend camping trip and you favorite brew.
Nomadik Subscription Box– I'm thinking of getting another a subscription or just giving him mine. I think he gets more excited than I do when the box comes into the mail. I have to be quick to open it, because if he beats me to it, then he claims most of it. You can also just purchase a one-time box too. It's fun because we get to try out lots of items at a low cost each month. I've never been disappointed by what has come in the mail. Last month, my husband snagged the EcoVessel Metro Mug, and my daughter got the Stainless Steel Reusable Straw. I was able to wrestle from them the Luci Light. Check out our January and February reviews.
Please note, this post may contain affiliate links. By clicking on those links, I may earn a small commision at no cost to you.
Fishing Caddy– This is just amazing. A great way to store your fish, place your yard and store your gear in the lid and use the lid as a comfy seat. Lots of storage too! I think my husband would love this because he likes fishing in just one spot rather than walking the river bank. This would also be great for ice fishing.
T-shirts– I like to get him funny t shirts. He is a bit particular, but loves ones that have an outdoors vibe to them. I'm having a hard time finding some this year because the two companies I used to get his t shirts from, appear to no longer be in business. 🙁 SO I opted for these ones this year, If You Can Read This…, Saskquach and Worst Cast Scenario.
Uco StakeLight Tent Stakes– I saw these right after Christmas and absolutely loved them. No more tripping in the dark over tent stakes and its easy to find your tent without fumbling for a lamp or headlamp. These last for a couple camping trips and it's easy to replace the batteries.
Luci Light– This light-weight inflatable light is perfect. Not only is it solar-powered, but it is very bright. It is inflatable, and therefore expands form pocket size to a small six inch lamp. It has a low and high setting, a flashing setting and then also lights up red if you needed an emergency beacon. Great for kayaking and fishing too because it floats. He really wanted the one that came in the Nomadik box last month, so I just might get one for him for Father's Day.
Brazos Hiking Stick– Since my husband was hit by a truck when he was 19, he struggles a bit with his hip. I would love to get him one of these because it would be very useful on our next hiking or backpacking trip. A walking or hiking stick is like having a third leg. They also have wonderful canes than can be customized. All walking and hiking sticks are made by local artists and all wood is sustainable and responsibly harvested. Check out our review to find out more about this functional piece of art.
Coleman Cooler– One of our plastic coolers just ended up cracking. We have an old steel one from Coleman, so I am thinking about getting a new one. Coleman anything seems to last longer than other products and they seem to be one of the only companies that still make products that will last forever.
First Aid Kit– Now that we have the camper, I want to invest in a larger First Aid Kit. We have a small one for car camping, but I don't feel that it's enough, especially with all of our different adventures. Last year when my son busted open his eyebrow, I think my husband got very frustrated that he could only find multiple colorful band aids to patch up our son. We have a new first aid kit at home, but I would rather be over prepared when we go on adventures than unprepared, because Urgent Care is usually two to three hours away. MyMedic has great first aid kits and lots of variety to choose from, from solo to family. I have my eye currently on the MyFac.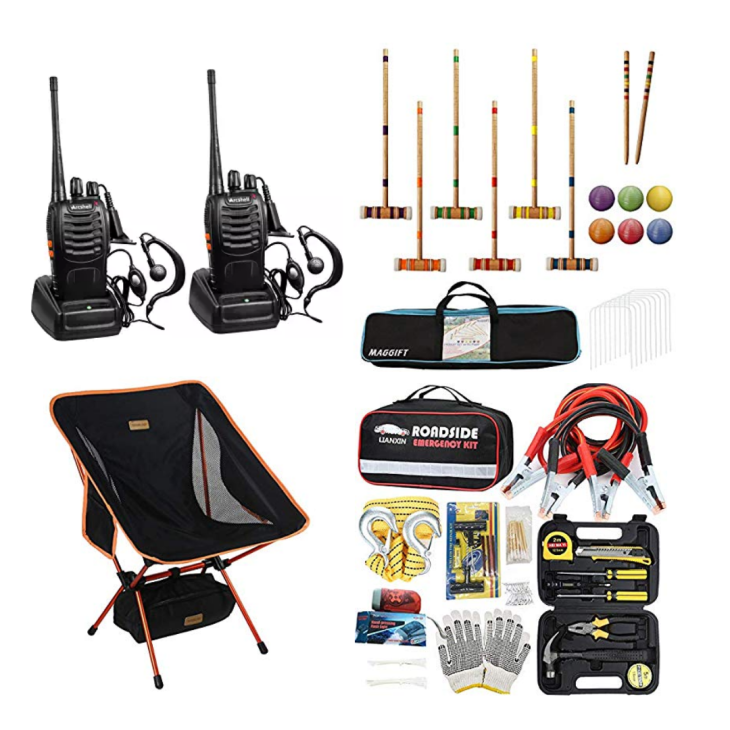 Walkie-Talkies– We have a set of two, but my husband mentioned he would like two more. We use walkie-talkis for many things including caravanning on road trips, kayaking, off-roading, cycling and camping. Many of the places we go to have no service, and it's nice to have a walkie-talkie in case I break down because I usually leave later than anyone else. Walkie-talkies have also come in handy when we broke down off-roading or when the kayakers needed to get picked up.
Croquet Set– We go through these very quickly. I buy about two per season because croquet is the best game to play in the evening out in the yard. Good for adults and kids, it keeps them all pretty active and they some play until dark. I would not spend a large some of money on a croquet set. They are made of wood and can only take so much wear and tear.
Emergency Car Tool Kit– We have a really big tool kit in the car, but I think he would appreciate a smaller one for the ATVs and the camper. Especially when we are off-roading, because we had a pretty hairy situation last year and lost brakes. Yikes. The big tool kit was at camp. The one I am looking at seems to be very complete, even though its small. It has a tow strap and gloves, which are pretty important to have, especially if you are stuck in snow or mud.
Hiking Chair– We are definitely feeling our age. My husband was admiring this backpacking and camping chair the other day. It is very comfortable and sturdy. I think he would probably use it more for camping, but it is great that it is light-weight enough to pack.
Is there anything you would add to this list? Even thought it is a Father's Day roundup, a lot of these are great for every day use. Which of these items would you choose, for yourself or that special dad in your life? Let us know in the comments below. And as always, be outside with no limits. Love, Pauline