Who wants to cook the same thing again and again every time they are out backpacking or camping? Many of you readers, have expressed wanting more ideas for camping meals that are easy to make and are not the add-water, freeze dried meals. Also, several of you expressed that you would like meals that can be made on a cookstove, a backpacking stove or in a camper, especially when there are fire restrictions and campfire cooking is not allowed. I have been researching recipes so I could give my readers what they wanted.
And then I was approached by MONTyBOCA. I have not heard of them before and they are a newer, small business. You know I love small businesses. I know a little Spanish, so I knew that "Mont" meant mountain and "Boca" meant mouth, so mountain and mouth??? It had to mean that it had something to do with mountains and food and I was right. Chef Corso, who was classically trained in Italy and California, got fed up with eating freeze dried, heavily salted or out of the bag meals and a person can only exist so long on hot dogs, trail mix and jerky. So, he decided that camping meals should be tasty, and people should eat well on their outdoor adventures without compromising healthy ingredients and taste. And because MONTyBOCA is so fabulous, I am splitting this post into two parts so I can share with you all of the yumminess and great tips.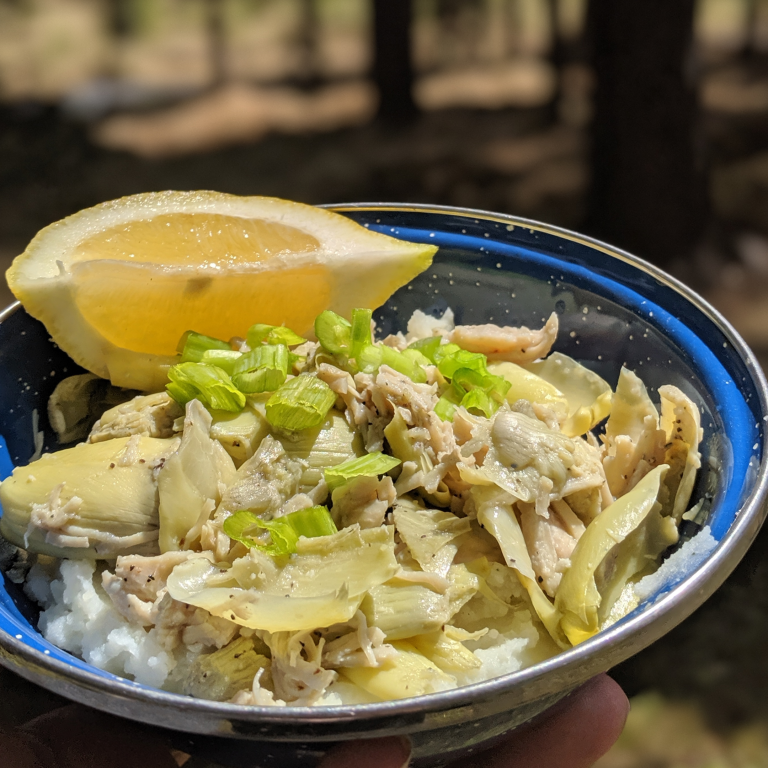 The MONTyBOCA website has multiple recipes. Any of these can be cooked on a camping stove like a Coleman, a backpacking stove like a JetBoil or in your camper/RV. The recipes are all tested, contain as many fresh ingredients as possible, with a quick prep time of about 5 minutes and a cook time of less than 30 minutes. Each recipe lists the following: prep time, weight, number of ingredients and number of servings. This makes it easy to meal plan for outdoor adventures. Have dietary restrictions or don't eat meat? The recipes are sorted out into sections as follows: Vegetarian, Vegan, No Burner, Dairy Free, Dessert, Dinner, Lunch and Breakfast. I decided that I wanted to test out three different recipes: an entree, a dessert and breakfast. But because there was such a wide selection, I asked you the readers, across all social media channels, to decide what I would make for dinner. Out of four choices, the most popular choice was the Garlic Chicken with Artichokes and Mashed Potatoes. Are you ready for what we thought??
What Did I Think? The ingredients for this recipe were easy to find at my store, except for the scallions because I live in the middle of nowhere. Chef Corso mentions in the FAQ on his site, that its okay to replace or remove the ingredients if you don't have them. I used green onions instead of scallions. Also, I had to remember that I needed a can opener, and I like small can openers for camping and backpacking. As for the prep and cook time, the recipe was spot on. I did make the potatoes separate from the chicken and artichokes and made everything on a camp stove. Easy to prepare and clear instructions. I doubled up the recipe with no problems because there were a lot of people there this past camping trip. The food itself was very flavorful and delicious. The kids absolutely loved it and so did everyone else (I had about 10 people tasting with me). I think this could be something I would take backpacking if I had several people with me to even out the weight. I am absolutely going to make this again on our next camping trip and will add it the camper and tent camping recipe file. I might even make this as a regular meal but with real mashed potatoes instead at home in my kitchen because it was kid approved. Check out the recipe below.
Please note, this post may contain affiliate links. By clicking on those links, I may earn a small commision at no cost to you.
If you would like to see what other recipes Chef Corso has created, be sure to check out the second half of our post next week, which will have reviews of a breakfast and a dessert. MONTyBOCA also has recipe collections for purchase. You can check out this and other recipes at https://montyboca.com, and follow Chef Corso on Facebook, Instagram and Twitter. Want to be tester? You can apply to test some of these recipes too at https://montyboca.com. How cool is that? What is you favorite camping recipe from MONTyBOCA? Remember, don't let an empty stomach or a poor meal ruin your outdoor adventures. Be outside with no limits. Love, Pauline