You can usually find my kids outside, rain or shine. They love playing outdoors in the woods, on the swing set and especially in the yard. We enjoy the summer evenings the most because then we get to play yard games. My kids and the plethora of cousins love to play in the sprinkler and play soccer, croquet and boca ball. But sometimes those games get old, so we try to find new ways to play outside. It's the same with camping. As much as the kids love playing in the dirt and creeks, they like to try new camping games too. I kind of wish that they still made lawn darts, but those were so dangerous.
That is why I was so excited to try out Stomp Rocket. I had never heard of this game before. But I was willing to try it. When I told the kids, they checked the mail every day, waiting for this new activity. We were out of town camping on our first big camping trip of the year when it got here though, so they had to wait until we got home. A soon as the truck pulled into the driveway, all of the kids, mine and the cousins, ran towards the porch to go and open the box. I am not sure who loved it more in the end, the little kids or the big kids (adult boys). **This product was sent to me to review as a courtesy. All opinions are my own and I only review items that I love and have tried out.
Normally I make everyone clean up the camping gear and put it away before they can play. But this time I made an exception because I was really curious. I am so glad that we didn't wait. The boys quickly unboxed our Stomp Rocket. The one we got was the Stomp Rocket Stunt Planes version. The kids were in heaven!!
A Stomp Rocket is a toy that uses air to propel the foam rocket, or in this case, the plane. The harder you jump, the farther or higher it goes. Depending on the angle, it will go higher or farther too. What is really neat about the planes, is that there are three different ones.: The Looper that makes giant loops, The Glider that soars about 100 feet and the crazy Wildcat that does all sorts of tricks. These planes were designed by aerospace engineers. Plus, they are made of foam, so I wasn't worried about anyone getting hurt. The planes are surprisingly durable, considering how light they are.
Please note, this post may contain affiliate links. By clicking on those links, I may earn a small commision at no cost to you.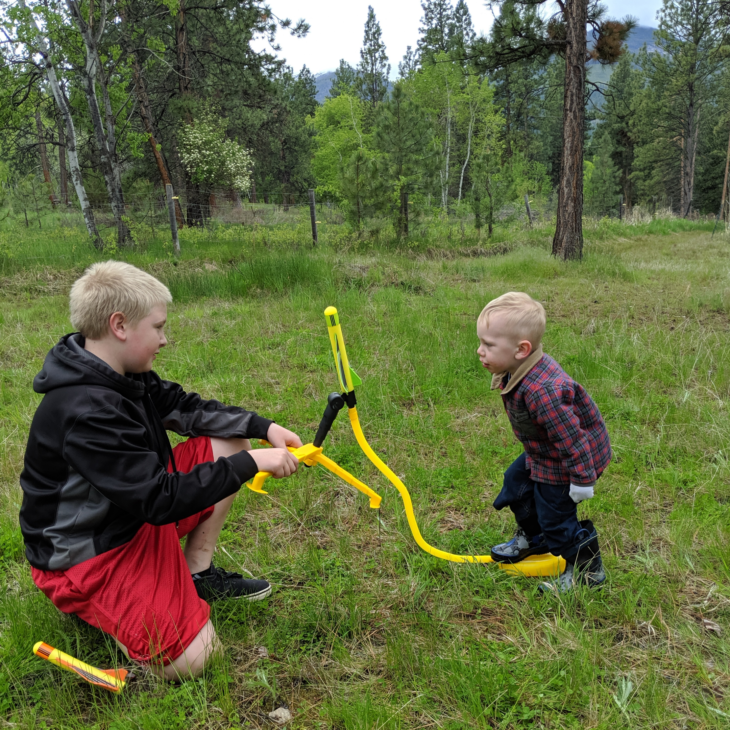 The boys had so much fun. They ran and jumped as hard as they could onto the launcher, sending the planes into the sky. I wasn't expecting them to go as high or as far as they did, so luckily I was able to knock them out of the tree. That's when we moved to a more open area. Tysen (one of my next-door nephews) has had a previous knee injury and Eli (my son) its kind of small for three, so it was sweet watching Tysen jump with Eli together, to make the planes soar.
Then of course all of the adults had to try too. It was funny watching these grown men act like kids as they ran and jumped. There were definitely lots of giggles and many memories made. There was a bit of arguing too, but it was just because everyone was having so much fun, that the kids had a hard time taking turns. And with eight kids playing and three adults, I need to get another one.
What did our family love about the Stomp Rocket Stunt Planes? First of all, the kids loved getting a new outdoor game that they could play with outside. Second of all, I personally loved it because it teaches kids about STEM. Depending on the trajectory and the force, the planes would go higher or lower. It was fun watching my three-year old realize this and experiment. At first he needed help to jump, but once it was broken in, he is now able to do it on his own. Everyone enjoyed trying to figure out the ways to make the planes fly higher or farther. And third, it was something our entire family could enjoy. We find ourselves busy because of work or things that need to be done around the house. This gave us an excuse to spend time together as a family.
Stomp Rocket is fun for all ages, even the littlest kid. Besides the Stomp Rocket Stunt Planes (ages 5+), Stomp Rocket makes multiple other versions. The first one is the Stomp Rocket Jr. Glow for ages 3+, that glows in the dark and shoots up to 100 feet in the air. There is also the Stomp Rocket Ultra LED, that lights up and can launch up to 150 ft in the air. The third is the Stomp Rocket Dueling that gives siblings and friends a great opportunity to have a friendly competition (and easier to share) with two kids being able to launch rockets at the same time. Last but not least for ages 9+, there is the Stomp Rocket Extreme, that puts stomping and flying skills to the test, with this rocket that can shoot up to 400 feet into the air. And last but not least, the Stomp Rocket Ultra.
I do not think I could ask for more out of a toy. It's a great activity that not only gets the kids outside, but gets them playing together and learning about STEM. And if they get stuck in the trees and you can't get them out, you can buy replacements. It's also very affordable and I cant believe how much abuse it has taken. It gets played with daily. In my book, it is a definitely a winner. I think for our next camping trip we'll go for the Stomp Rocket Jr. Glow or the Stomp Rocket Ultra LED, because of the lights. For our next family reunion, I am so considering getting the Stomp Rocket Dueling, because a little family competition doesn't hurt. Which one would you try? Use Stomp Rockets to get you and your family outside with no limits. Love, Pauline