Coffee is one of the most important things in our lives. At least for some people, and it is the only way to start your day. So what happens when you are traveling or in the mountains? Finding that perfect cup of coffee isn't as easy as turning on the coffee pot at home or stopping at your local coffee place on the way to work. This dilemma has turned into a quest for the best coffee for travel and backpacking. I can't ell you how many times I have read articles by other bloggers, that are on the search for the perfect cup away from home.
My sister-in-law and I were talking last year about the easiest and yummiest way to make coffee on the go. We were talking about the different ways to get coffee while backpacking or camping and I had suggested to her that we usually take coffee tea-bags with us. I decided to get her a box for the holidays last year, and I really wished that I had sent her Steeped Coffee. But because this is a new product to me, I sent her a different brand that wasn't the best coffee, but it was caffeine… I am okay with bad coffee, but I felt so bad, that for her, it was the worst coffee. So I guess if she reads this post, she'll know what she is getting for Christmas this year to make up for last year. And she'll be excited to know that the bags are fully bio-degradable and the packaging is made from recycled material. As an animal love, I'm sure shell appreciate that this coffee is also vegan and cruelty-free, as well as kosher. **Please note, this product was sent to me free of charge to review. All opinions are my own and I only review products I have tried and love.
A convenient cup of coffee while you are on the road or in the back country is hard to come by for multiple reasons, the biggest being the lack of a coffee pot or French press. You shouldn't have to settle for crappy coffee or instant. That is why I love Steeped Coffee, it's easy to make, has a delicious aroma and the flavor is mind blowing. No more excuses to not have a good cup.
It's as easy as 1,2,3. I was in the back country when I tried this, so all I had was a cowboy coffee pot. I boiled water, put the tea-bag in the cup and waited five minutes. When I tried it, I found it was the perfect cup with no hassle, or special gear needed. I didn't tell my husband that it was tea-bag coffee and he was astounded how good it was and was shocked that it didn't come from the pot. It is the perfect coffee if you are on the go, traveling or in the outdoors or you want just one cup.
Please note, this post may contain affiliate links. By clicking on those links, I may earn a small commision at no cost to you.
Steeped Coffee comes as a subscription from weekly to every six weeks. You can also buy it one time only too. With five different roasts, anyone can find the perfect blend that suits them. I personally enjoy the variety or pack, which has two each of every roast for the ten bag box or seven of each caffeinated blend and two of the decaf in the thirty bag box. Steeped Coffee bags are made with fresh, direct trade coffee, roasted in small batches locally and precision ground with micron.
Eventide Decaf Swiss Water Processed– I didn't even realize it wasn't decaf, it was that good. With hints of molasses, blackberry and honey, this is perfect for an evening cup around the campfire. Light aroma and earthy flavor.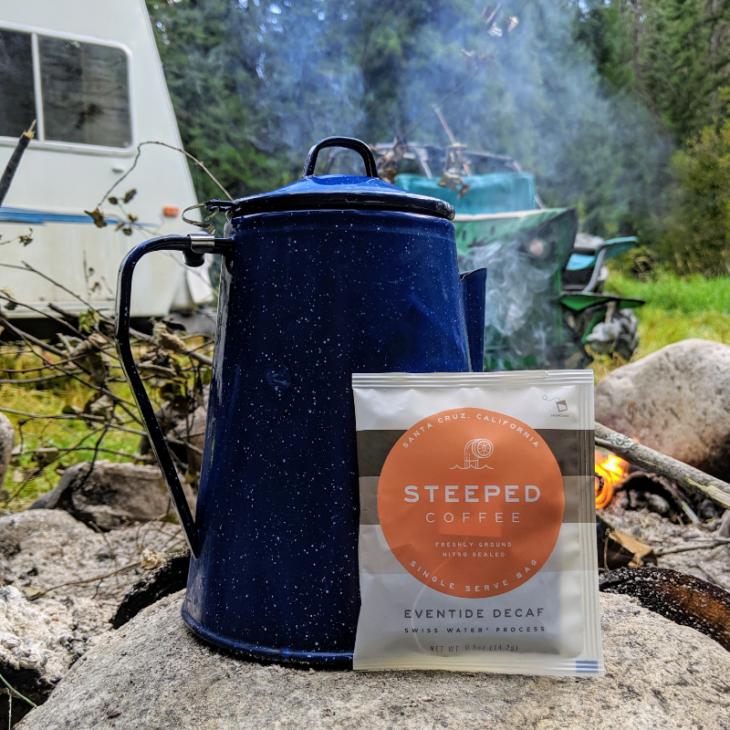 Driftwood Blend French Roast- With hints of dark chocolate and caramel, this smooth and rich blend is the perfect brew and tantalizes the senses. Perfect for an early drive or mountain morning.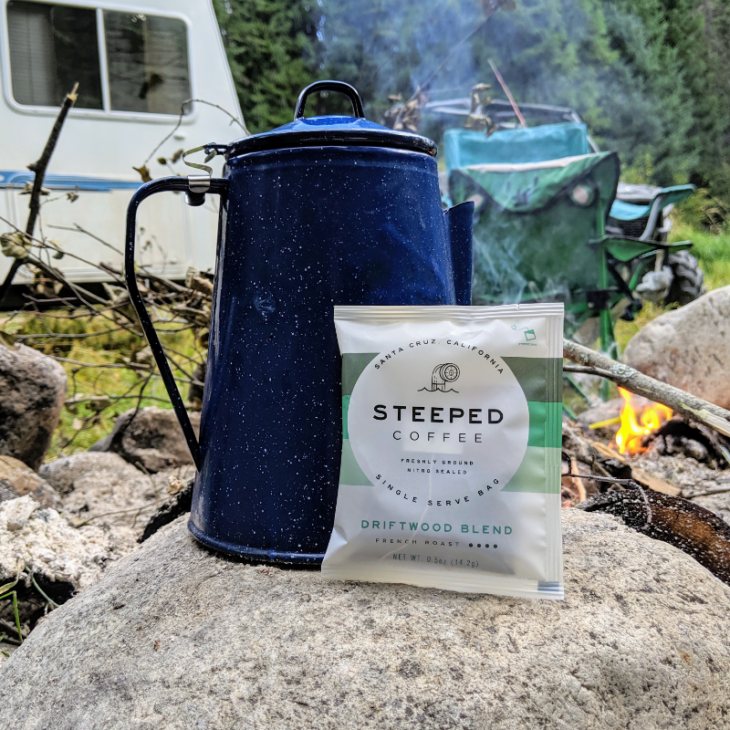 Odyssey Blend Dark Roast– I am a dark roast kind of girl. This coffee reminds me of toasted marshmallows and dark chocolate and has a semi-sweet flavor. With it's deep flavor, it is the prefect blend for an early morning on the river or in the wilderness.
Odyssey Blend Dark Roast
California Blend Medium Roast– Your nose will be delighted with the glorious aroma and the flavor is rich with notes of cocoa and coconut. This would be the perfect blend for a day in the forest or a long drive on a lonely highway.
Sunrise Blend Light Roast– This aromatic and light blend will brighten up any day, with hints of citrus and a light and smooth flavor. It would be the perfect blend for watching the sunrise or a foggy morning.
Whether at home, work or traveling, an electric kettle is a great way to heat water to make Steeped Coffee. I personally enjoy the whistling of a stove top kettle. When I am car camping, an enamel coffee pot works great for me. And I love my Jet Boil for backpacking and traveling when I need hot water for a cup.
On what adventure would you take Steeped Coffee with you? Is there a particular roast that you think you would enjoy? Don't let the lack of caffeine or warm beverage hinder your adventure. Be outside with no limits.