Books are a great way to inspire adventure and love of nature in children. I remember as a kid, that I would spend hours looking through old Encyclopedias, manuals and handbooks, learning about new things and places. My favorites were an old boy scout handbook and some old crafting journals. I really enjoy old-fashioned children's books, and have quite a few in my collection. That is one of the reason why I love "The Double Dangerous Book for Boys".
"The Double Dangerous Book for Boys" by Conn Iggulden, is the sequel to "The Dangerous Book for Boys" , also written by Iggulden, that was published in 2014. This book is a fun guidebook and manual for adventurous boys, loaded with activities and fun facts that every boy (or man) should know. With it's vintage look and stunning images, this book should be added to any collection and will be one of those treasures that will be handed down. We own the first one, "The Dangerous Book for Boys" and it has become dog-eared and wrinkled from so much love from many children. I know that this one will be loved just as much and we are excited to own a copy. **Please note I was sent a courtesy copy to review. All opinions are my own and I only recommend items that I love.
Review of "The Double Dangerous Book for Boys" by Conn, Arthur and Cameron Iggulden and published by Harper Collins Publishers, 2019
About the book: "The Double Dangerous Book for Boys" is a wonderful book for boys ages 8 to 80. From crafts and experiments to information and history, this is a book that can be looked through again and again. Any curious child, boy or girl, will find things that fascinate them and expand their horizons. Many of the chapters include life skills that any boy (or girl) should know and loads of entertainment. It is a wonderful mix of history, science, literature, math and fun, all in one book. This book is a great way to inspire day-dreaming, outdoor play, imagination, and creativity. The vintage feel of if it makes is extra special, and it looks and smells like an old Encyclopedia. Some of the chapters include:
Please note, this post may contain affiliate links. By clicking on those links, I may earn a small commision at no cost to you.
Tying a Windsor Knot
Questions About the World
How to Pick a Lock
Solving a Rubix Cube
Making an Igloo
How To Write a Thank-you Letter
Things To Do: Frustration Games
Famous Horses
American Sign Language
How To Make A Pencil Catapult
Presidents Of The United States
More Quotes From Shakespeare
Five Great Mathematicians
Making A Stink Bomb
There are so many hands-on crafts, experiments and games in this book. Is this is a STEM book? Absolutely!! and much, much more. This last week, Eli and I were home together, all by ourselves. He was laying in front of the fireplace and looking at all of the pictures in the book. He cannot read yet because he is only three, but this book kept him entertained for quite awhile.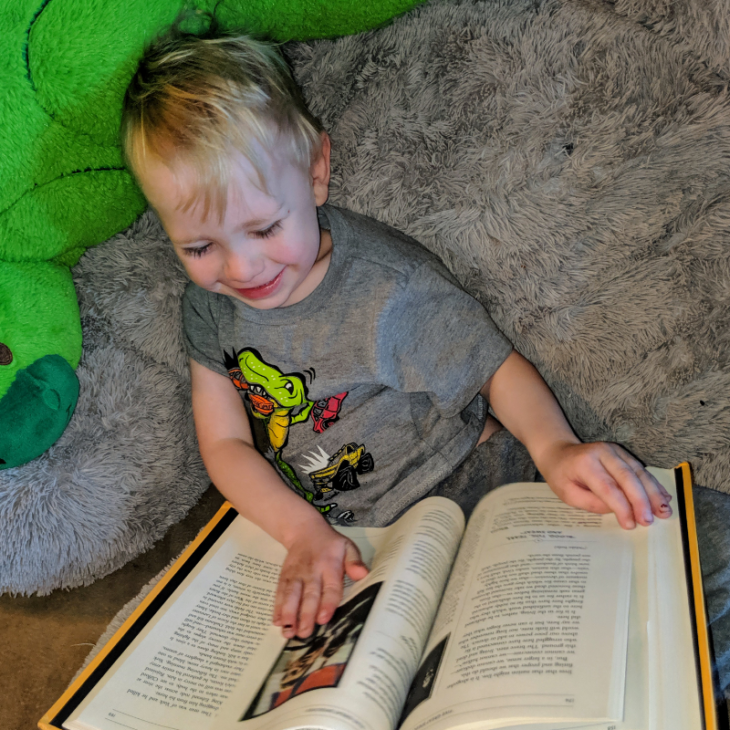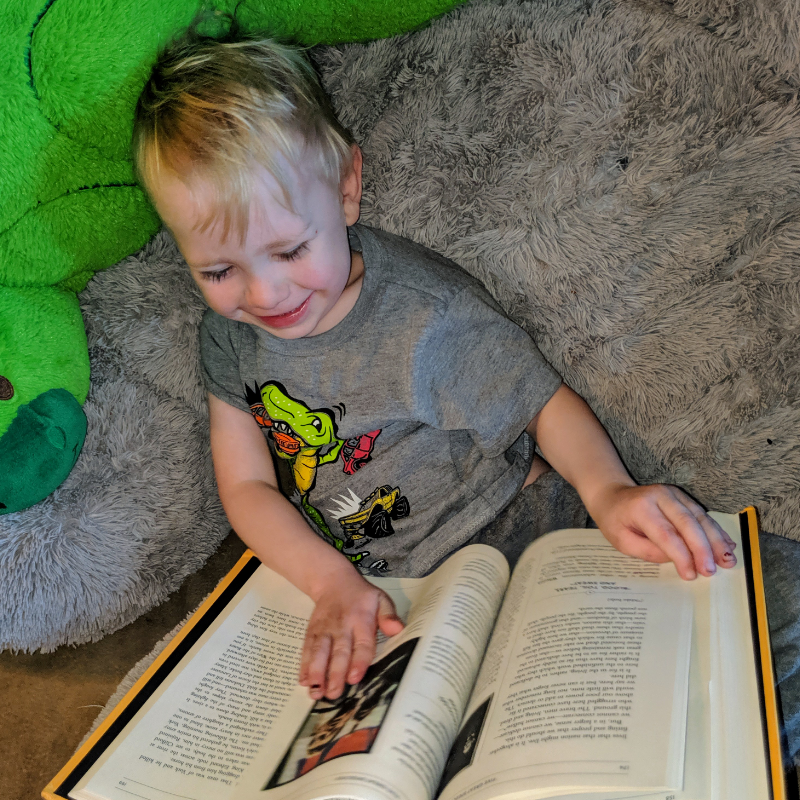 This child is obsessed with planes, and he got stuck on the chapters "Flying Machines" And "The Best Paper Airplane in the World- Take Two". He asked me if we could build a plane. I have everything to make the flying machine, but I am not mechanically inclined, so I saved it as a winter project that he can do with his dad. Instead, we made a paper airplane. Normally, I am lucky if my planes glide over three feet, they are usually that bad. Together, Eli and I folded the plane and I am so good at paper airplane making, that I FOLDED IT BACKWARDS!! Good thing were were diagrams and instructions I could follow, because in the end, we had a perfect airplane. And let me tell you, it was the best paper airplane I have ever made! He spent hours playing with it outside. Not only was he entertained, but we had a good time together.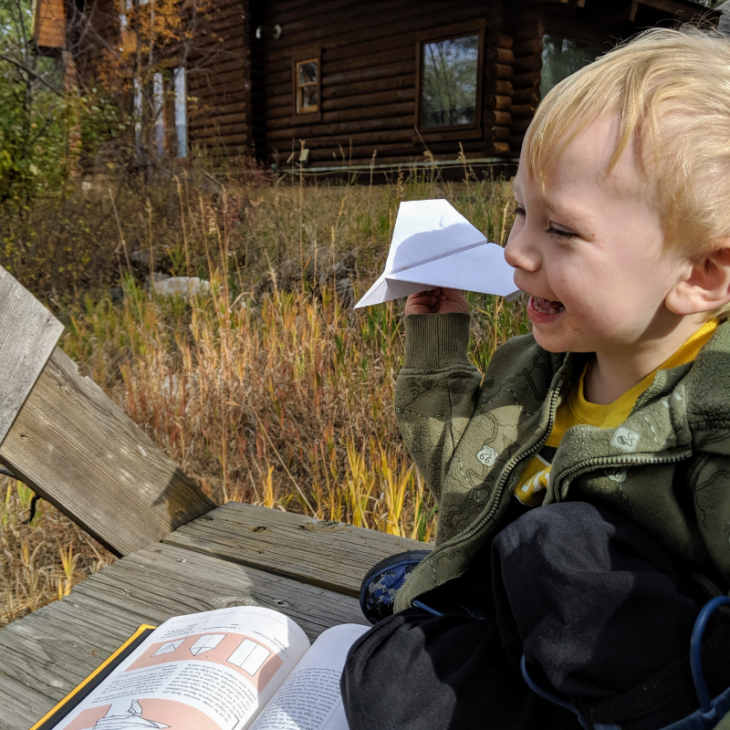 My other children really enjoyed the stories and poems. There is something in this book for everyone, no matter what age. I personally enjoyed the literature and history more than the activities. But, it was fun to make the airplane and see how much fun my son had with it. What could have been a boring day inside, instead became a day of learning and experimenting outdoors because of this book. We made memories instead of just having another good day. I also really appreciated the recommended book list at the end, of books all boys should read. A few of these we have already read, and some I have added to our book list.
My Thoughts: Conn wrote this book with his boys. All of the crafts, games and experiments have been tested by the three of them. His goal, by writing the first book and the second book, was for kids to get dirty, use their imagination, learn new things and be captivated by the book again and again. He wanted kids to put down the video games and experience and learn new things. I absolutely agree that he succeeded in his mission with this book. This book was made to be loved and read, over and over. Good think it is a hard back.
I loved this book. My kids keep reading through it, again and again. Every time I open it, I find something new. I have learned new things and discovered things I had forgotten, even though it is a children's book. My kids are broadening their horizons too. This would make a great book for any child, of any age. And it is timeless and ageless.
If you like this book, you should also check out Conn Iggulden's first one, "The Dangerous Book For Boys". We also own and enjoy "The Daring Book For Girls" and "The Double-Daring Book for Girls", both by Andrea J. Buchanan and Miriam Peskowitz. I am considering to get my daughter the pocket version of the Daring Girls books, "The Pocket Daring Book for Girls – Things to Do", as stocking stuffers this year.
What do you find most interesting about this book? Do you enjoy books that get the brain juices flowing or spark adventure? Try new things, get outside more, be inspired by this book! And as always, be outside with no limits.