If anyone talks to my husband, I do not want anything on this list. Reverse psychology sometimes works, right? Honestly, some of these I already own, but there are a few I really, really want and I hope someone tells my hubby about this or he reads this post.
"America's Best Day Hikes" by Derek Dellinger– This is such a wonderful book for hikers. With 50 different amazing hikes and many off of the beaten path, it's any outdoor adventurer's dream book. This book has stunning photos and very helpful tips. You can read more by going to our review. It is a stunning edition for anyone who loves the outdoors.
"Turn Around Time" by David Guterson– If you love the outdoors and are a fan of John Muir, you will love this book. This is a narrative poem about trails and hiking, wilderness and wonder, aging and myth and written by one of the greatest authors of the Northwest.
MontYBoca Recipe Book– Many of you readers already know how much I love MontYboca. It has changed my perspective on camping and trail meals. With his first-ever recipe book, Chef Corso brings you fresh and delicious alternatives, instead of dehydrated and canned meals. If you want to know more, check out our reviews and recipe shares: Beef Jerky Stew, Garlic Chicken with Artichoke Hearts and Mashed Potatoes, Caramelized Bananas with 'Nilla Wafer and Dirt Bag Egg Benedict. You can also sign up as a recipe tester to add to the recipe bank and it is a lot of fun. Perfect for any outdoor enthusiast, camper, backpacker, RV camper or van lifer, and also comes in ebook format.
Please note, this post may contain affiliate links. By clicking on those links, I may earn a small commision at no cost to you.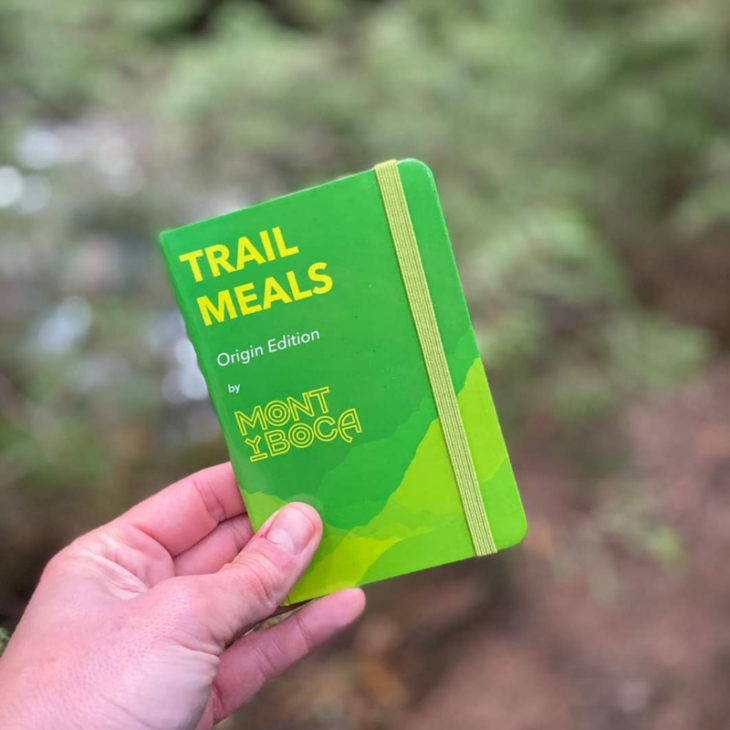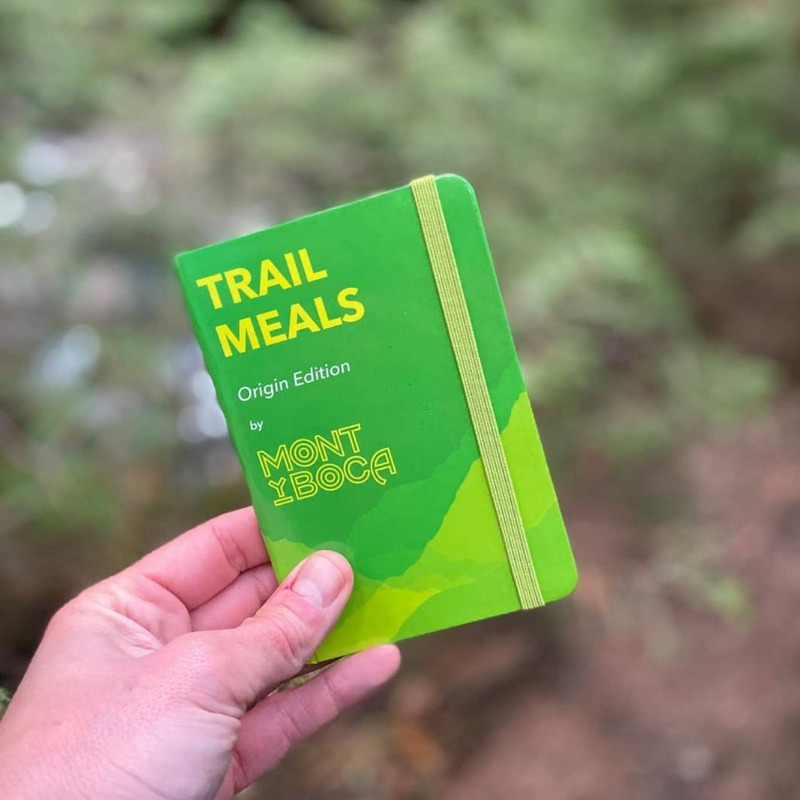 Binoculars– We have multiple pairs for at home, in the car, camping and backpacking. I do prefer the Bushnell brand because of the variety and durability that they have. For a good all-around pair for everything, I particularly like the Bushnell H2O . Not only are they waterproof, but it's a nice compact pair for backpacking, bird watching, and hiking. I also have the Bushnell Falcon binoculars, that I keep in the car.
Stuff Sack Organizer– I love stuff sacks, but this one from Gobi Gear has become my favorite and one of my favorite finds in 2019. Besides being able to adjust the size, it is partitioned for quick organizing. I loved this during our backpacking trips this summer because it was so much easier to quickly find something than go digging around in my pack.
Gaiters– I don't mean the animal! Gaiters are fantastic for keeping the water, dirt, mud, and snow out when camping, hiking, hunting, snowshoeing, and riding. There are many brands out there, but I really love these gaiters from Unigear. Your feet will thank you.
Crampons– As someone who uses these from October through may, just for checking the mail, I cannot tell you how many times they have saved me from slipping. These are not only perfect for winter adventures like Hiking and fishing, but also for everyday use. Imagine walking home less than a mile and falling on the ice or walking to your mailbox. Falls from ice cause really awful breaks and it's not to be able to still take a walk in the winter. For the life of me, I had the hardest time remembering what these were called. I kept asking people what do you call the little ice spike things you put on your shoes.
Mock One Hammock– I love hammock camping. This awesome hammock is portable and free-standing with a collapsible frame. So If there are no trees, no worries. Hammock camping has become very popular in the last few years because it is easier to set up than a tent and easier on the back.
Game Cam– It is always fun checking the game cams we have in the woods by the house and by the creek. We have yet to get a picture of a bear or mountain lion, but plenty of birds, deer, and moose. I like this small one because it is very powerful and I can even set it up by the bird feeder and capture pictures of birds and squirrels. Games cameras are also a great way to prove extra security at a campsite. We take one with us on every camping trip.
Swiftwick– This has become my favorite outdoor sock. I have really large and sweaty feet. With Swiftwick, I found a sock that fits my needs and for the first time, a sock that keeps my feet dry. Socks for cycling, hiking, golfing, running, mountaineering, backpacking and more. Find the sock that suits you with your preferred sock height, cushion, and compression. Learn more at Swiftwick.com or check out my review of Swiftwick. There is even a sock quiz on their website, to help you find the sock that is best for your lifestyle. Swiftwick can also be purchased on Amazon.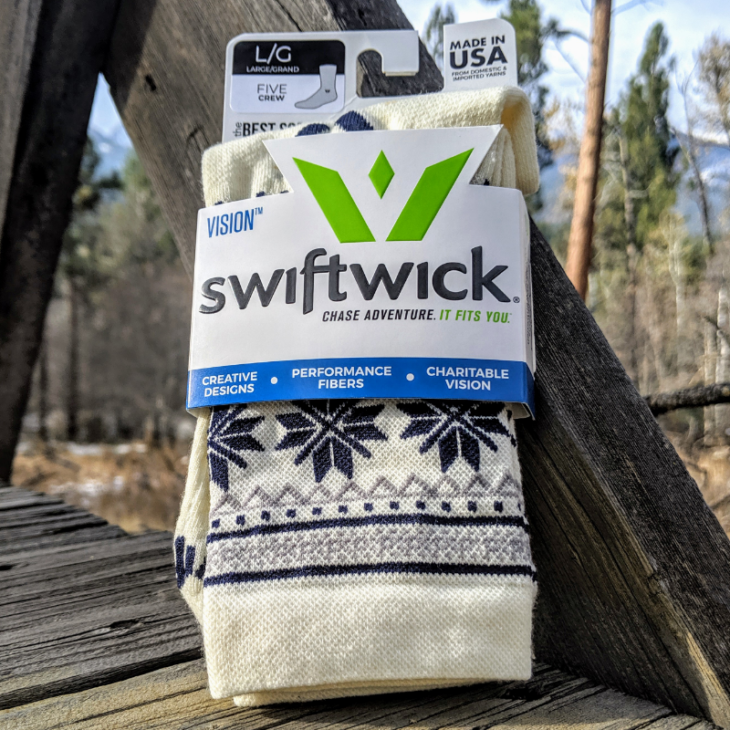 myCharge Power Cell– There are so many different brands out there for power cells, but my favorite is myCharge. Try the H2O, which is waterproof, very powerful and can charge two electronics at once. Or, my favorite backpacking one is the myCharge Adventure Max. You can read a review here for the Adventure Max and here for the Adventure H2O.
Dry Bag With Speaker– What's better than keeping your stuff dry? Keeping your stuff dry and listening to music. This dry bag has a built-in Blue Tooth speaker, that's rechargeable either via solar or USB. Great for winter and water sports.
Love Bottle– Looking for something fun and unique? This gorgeous water bottle is made in the USA, is made from 50% recycled material and made with love. Love yourself, by drinking enough water and remind yourself that you are loved with all the little reminders on this bottle, like the message at the bottom "love yourself" and the heart on the lid.
Kachula Adventure Blanket from Coalatree– We take blankets with us to road trips, sports games, off-roading, picnics, and many other activities. I love the Kachula Adventure Blanket, because it is made for adventures. Water-resistant and warm, try the regular adventure blanket or the puffy one. Snap them together to create a big blanket or makeshift sleeping bag, or snap on the hood to create a poncho. It also has a built-in pocket so that you can fold it up, use it as a pillow and no stuff sack required. This also makes a great under quilt for hammock camping. So versatile.
Collapsible Portable Cooler– I have two older coolers, one from plastic and one from steel, that I use all of the time. But, a nice collapsible one is perfect for camping, off-roading, road trips, and fishing. I really like the ones by CleverMade. Plus, I use them a lot for hauling groceries home, which Costco is more than an hour away, so these come in handy.
Purifyou Bags– I love reusable bags and try not to use plastic as much as I can. For camping and backpacking, I do like to portion things out and keep things separate in coolers. That's why I like Purifyou's reusable bags. These are also great for your everyday shopping.
Rawlogy Massage Ball– Hiking and backpacking can lead to aches and pains. Try this eco-friendly massage ball, that only weighs 1.4 ounces and made from 100% recycled cork. Created by outdoorsy people by outdoorsy people.
Cascade Wild Table– This lightweight portable and foldable little table is perfect for hiking, camping, and backpacking. If weight and space are important, then this is perfect for you, weighing only 2.2 ounces, with an 8″ by 12″ surface to keep your food and stuff off of the ground. Flip it upside down, and use it as a drawer for storage.
Tentlab Duece Potty Trowel– Part of leaving no trace, is also taking care of human waste. With this little digging tool, you can easily dig a cat hole. Great for car camping, hiking and backpacking.
Bear Spray– It is better to be prepared than to have a problem with animals. Any time I am in the backcountry, I carry bear spray for protection. And where I live, I also need this when going running or walking the property.
Bear Bag Hanging System– When in bear country, storing food properly out of reach of animals is important. It is also part of the "Leave No Trace" principles. Leaving food out can tempt animals and lead to problems. But, it can also cause animals to be "food trained", which can possibly make them sick or they become such a past, they must be euthanized. This system has everything you need to hang your bear bag,
Elyptol Travel Kit– Hand sanitizer comes in handy when you are traveling, on the go or in the backcountry. I love this company because the ingredients are all-natural and it doesn't leave my hands dry and itchy. I use it frequently at my office too, because of all of the germs people bring in. The travel kit comes with wipes, gel, and spray.
Scrubba Wash Bag– There is always some type of accident when camping or traveling. I try not to pack too many clothes, but stuff happens. Especially with kids? This gadget is perfect for washing a few items when needed and has saved me a few times. There are no laundromats or washers in the backcountry. I have the older model, but the newer one is on my wish list. It's like having a mini washing machine in my pack.
Earthpak Drybag– I absolutely love these for kayaking and winter sports. I own two of these and they are the best. I love the strap and the zippered compartment. These are also great for car camping when it's raining or snowing, and you are keeping your stuff under the tent flap.
Camping Pillow– Gone are the days that I could just use my jacket as a pillow. There are many brands out there, but this one I have found to be a bit more supportive and durable and I love the flannel cover.
Camping Multi-Tool – If you are car camping or RV camping, having tools can be fairly important. I love the RoverTac Camping Multi-tool, complete with hammer and ax.
Sleeping Pad– These are fantastic to have for tent camping and light-weight enough for backpacking. I love the Klymit Static V ones, because they seem to last forever and provide plenty of cushion. Try the regular size or the one that is a bit wider. They also make a double one too. The pads are also great for travel.
Backgammon– One of my favorite camping games is Backgammon. I've been playing since I was a teenager and it's always been a great way to pass the time. The wooden sets are nice, but I love the ones that roll up too. I think they are easier to travel with.
National Parks Game– We like board games when we are camping too, especially on a rainy day. For my wish list this year, I have added this National Parks game. I know we would enjoy it at home during game night too.
Click here for outdoor, nature and adventure books
Click here for hiking and outdoor essential gifts and stocking stuffers
Gift Cards– And if you don't know what to buy, a gift card is always a great option for the outdoorsy person in your life. On Amazon, you can find almost anything.
There are some other online stores that have great outdoor gear and accessories. I love unique and affordable gear. All of these stores offer gift cards as well. Garage Grown Gear supports small businesses and startups. United by Blue removes 1 lb. of plastic from the oceans for each purchase made. Coalatree believes in ethical manufacturing and using recycled materials.
If you didn't find something here, check out our stocking stuffer gift guide or our gift guide for outdoorsy kids. I hope you find the perfect gift for your outdoor enthusiast friend. Is there something on this list that you can't live without? I hope you have a wonderful holiday season. And even if it is cold outside, be outside with no limits.