If you are looking for an outdoor subscription box, this is the one for you. Any outdoorsy person would love getting this box as a monthly subscription or enjoying it one-time only. What is the Nomadik outdoor subscription box and why do we love it?
What is the Nomadik subscription box?
The Nomadik subscription box is a monthly box mailed to you each month. I have been a subscriber since 2018 and I love getting my box every month. It has been a great way to try out new gear for all of our outdoor adventures and an affordable way to replace small gear items and build up the kids' gear.
This monthly subscription box starts at $29.99. You can purchase a one-time-only box and also previous boxes or purchase a re-occurring subscription. Each box comes with 4-7 pieces of gear or products valued between $50.00-$75.00, sometimes a bit more. There is usually one item of a higher value and 3-5 items with a smaller monetary value. Also included in each box is a small brochure describing the products, helpful tips about outdoor adventures, and special coupon codes for various vendors. Each box has a different theme and the theme for December 2020 was "Keep Warm and Carry On".

What is in the December 2020 Nomadik Box?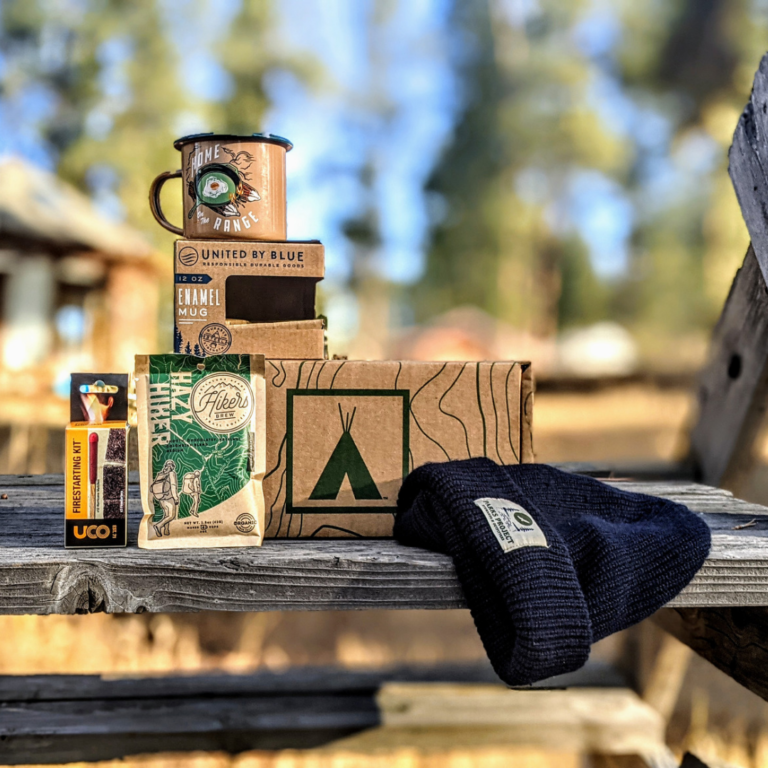 This month, there were four pieces of gear. The theme for December 2020 was "Keep Warm and Carry On". The December box usually has some type of winter-themed gear. For the last two years, I have gifted my complete December Nomadik subscription box as a Christmas present. But this year, I kept the whole thing because it had stuff from some of my favorite brands and with being an essential employee, I felt I deserved to give myself something extra special. This December, there were four products in the box, as follows:
Please note, this post may contain affiliate links. By clicking on those links, I may earn a small commision at no cost to you.
Parks Project Stewards and Outfitters Beanie – My favorite summer adventure hat is my Boonie hat from Parks Project, so I was really excited to open my box and find their knit navy-blue beanie. It's perfect for winter-time in Montana, snuggly warm, and perfect for snowboarding or playing in the snow with the kids. Every purchase from the Parks Project benefits the National Park Foundation and is reflected on the patch on this beanie. All of my other clothing items from the Parks Project have really held-up over the years, with constant use. Value $28.00.
United By Blue 12 oz. Enamel Mug – I love United by Blue and recommend their products often. For every purchase, they remove one lb. of plastic from the ocean and waterways and are advocates of sustainable and responsibly made products. My top choice for a camping cup is an enamel coffee mug. United by Blue has a great selection of enamel coffee cups. They have bright, unique designs and are double-dipped to withstand wear and tear. I appreciate that they are a bit more heavy-duty than regular enamel mugs. United By Blue has a variety of clothing, accessories, and unique gift items. I also really like the enamel mug candles that United by Blue has. Valued at $18.00-$30.00 in stores and online. You can find United by Blue products on Amazon or at the United by Blue website
UCO Gear Mini Firestarting Kit – I love UCO, as you may have seen from other posts on this blog. I really love their headlamps that are rechargeable and very durable, but I also love their fire-starting essentials including their sweet fire firestarters (made out of recycled sugar cane) and their storm matches. This little kit is perfect for any hiking or backpacking pack, or for any camping box. Usually retails for about $12.00 at local stores or online.
Hiker's Brew Hazy Hiker Venture Pouch – Brewing the perfect cup of coffee on any adventure is almost like searching for the holy grail. Instant coffee, bleh. Ziplock baggies of ground coffee spilling all over your bag, yuck. Hiker's Brew has come up with the perfect solutions of individual pouches of ground coffee. The Hazy Hiker is the perfect flavor, a smooth medium roast with a hint of hazelnut. Each pouch gives you four cups of coffee, and can be used in a French press, or even made as cowboy coffee. This was so good, that I bought a package of four to use during our snowboarding and ice fishing trips this winter, to be made over the camp stove on the tailgate. A package of four pouches retails for $14.99.
What else do I love about the Nomadik Box?
Besides getting great gear under the market price as well as being introced to new things that make my adventures better, I love their customer service. If you have any problems, they do everything they can to fix it timely and satisfactory. Nowadays excellent customer service is priceless.
This is by far one of the best outdoor purchases I have ever made and I cannot wait until I get my next box. I'm not sure who gets more excited, me or the kids. What do you think? Is this something you would love? Be sure to leave a comment below with your thoughts. And as always, be outside with no limits.