If you are an outdoorsy person and love subscription boxes, you should check out the outdoorsy Nomadik Subscription Box. I am always excited when it comes in the mail and I get to see all of the camping and hiking gear. The December 2020 box was one of my favorites, but the January 2021 one has some really good stuff in it too.
I've been a subscriber since March 2018 and only once did I get a box that I wasn't happy with. It wasn't even that it had stuff I couldn't use. One of the products, a waterproofing kit, leaked out, soaking the whole box. Lucky for me, Nomadik has the best customer service ever, so they made it right.
What is the Nomadik Subscription Box?
The Nomadik Subscription Box is an outdoor-themed subscription box shipped monthly, that can be purchased as low as $29.99 monthly. It is a monthly subscription box for outdoorsy people or anyone who loves hiking, camping, backpacking, bikepacking, and other outdoor adventures. Each box has a minimum value of $50.00. You can also earn free gear and boxes by earning points.
What Comes in a Nomadik Subscription Box?
Each subscription box includes 3-7 full-size items that correspond with the monthly theme. There is a different theme each month. Also included with your gear is a pamphlet describing what each product is, useful tips, special coupon codes, and the monthly challenges. The monthly challenge gives you the opportunity to earn free gear or free boxes.
Please note, this post may contain affiliate links. By clicking on those links, I may earn a small commision at no cost to you.
Why do I Love the Nomadik Subscription Box?
I have tried other boxes but have stayed a consistent customer with the Nomadik for several reasons. I also promote them here on the blog and I only recommend products that I like and use. Because everyone in our family is very outdoorsy, this has been perfect for building the kids' gear, replacing old accessories, and trying new things I wouldn't normally try. Here are just a few reasons why I love Nomadik:
It saves me money on new gear. This is extremely important for me because I have a family. My kids are constantly breaking or losing things or their gear needs grow as they get older.
I love getting surprises in the mail.
I have tried new gear and food I wouldn't normally try.
They have the best customer service. If a company has crappy customer service, I'll stop being a customer.
All of the products have been useful for us, either outdoors, for the car, or even at home.
They believe in and support small businesses. They were the first company that would work with me when I first started out blogging. Many of the things they send out are products from small businesses and startups.
They promote sustainable and environmentally-friendly products. One of the things that I noticed as a subscriber is when they changed their packaging to recycled cardboard and a smaller box.
Whatever I haven't been able to use (which isn't often), makes great gifts.
You can buy past boxes and previously featured gear at reduced prices.
What's Inside the January 2021 Nomadik Box "Camp Under the Stars"?
The January 2021 box had four products in it. The theme for the January 2021 Nomadik subscription box was "Camp Under the Stars". It included camping gear and some fun surprises.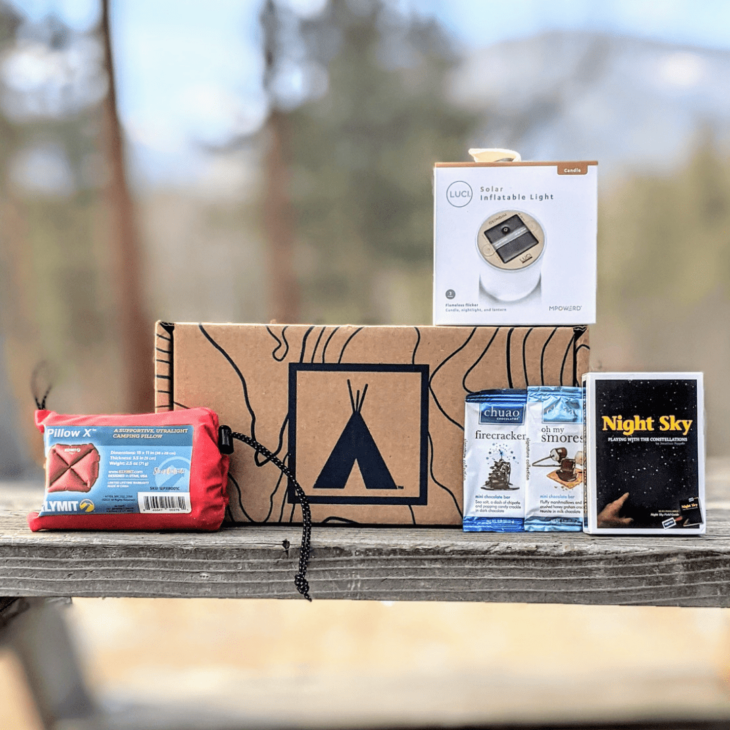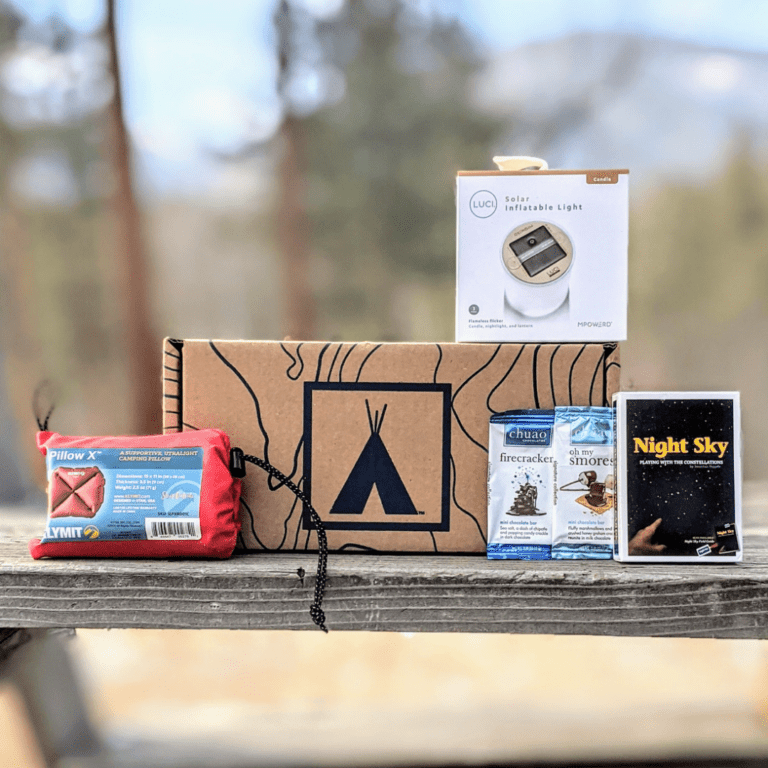 Klymit Pillow X
The Klymit Pillow X is an inflatable pillow that is perfect for camping and backpacking. It weighs only 2.5 oz. and packs up into a tiny pouch that comes with it. Because of its "X" design, it keeps your head on the pillow in the center. This is great because too many camping pillows slide right out from under your head. This one did not when my very active toddler slept with it. And the size is perfect, not too small and not too big. I really like how easy it is to inflate or deflate and that you can easily adjust the firmness by inflating or deflating air. I kept this pillow for myself. The average retail price online or at local stores is between $25.00-$30.00.
MPOWERD Luci Solar Inflatable Candle
MPOWERD is one of my favorite companies because I love their solar-powered lights, which have several different options. This month is my Nomadik box, I got the MPOWERD Luci Candle, in inflatable solar-powered "candle". If you are looking for low light while watching the stars, a night light in the tent for kids, or ambient lighting, this is a great choice.
The candle recharges through a solar panel or via USB and has four different modes: candle flicker, high and low. It has a soft amber light that isn't glaring. This light weighs only 2.3 oz and collapses down to 1 inch. MPOWERED gives back to the community with each purchase. I love the versatility of the lantern and the fact that I can get the candle-effect without a flame. This is going into the camping box. The average retail price online and at stores averages $18.15 to $20.00.
Night Sky Playing Cards
These Night Sky Playing Cards that I got are very cool. It's a deck of playing cards and has 52 different constellations. Each card has a different constellation and indicates what time of year the constellations can be seen in the night sky. A good deck of playing cards is a must-have for any camping or backpacking trip. What's nice about this deck, is I no longer need to pack the stargazing guide for camping. So now I can save more space with this two-in-one. The average retail price online and in stores averages $5.95 to $6.50.
Chuao Chocolates
I love me some chocolate and these little candy bars were fun to get in our box this month. We got the Chuao "Firecracker" and the "Oh-My-S'mores" mini chocolate bars. I don't think I have ever gotten chocolate in my box before, so this was a fun surprise. The "Firecracker" was the winning flavor, because of the little exploding candy. This retails individually online and in stores between $0.95 to $1.05.
This was a good subscription box this month. The minimum value is $50.00. I was really happy with my Nomadik box this month, especially the new pillow. This is the best box for outdoor activities that I have found, that I get the best value and the box that I have been happiest with. Be sure to check it out and let us know what you think.