Hi there. My name is Pauline Reynolds-Nuttall, the creator and writer behind "Mama Bear Outdoors" and the author of the new "Castiron Camping Cookbook".  I currently live in Montana with my husband Al and our three children Brook, Niva, and Eli. The tv show "Yellowstone" and the movie "A River Runs Through It" were both filmed nearby. My husband and I were both born and raised in Montana and ran wild in the gullies and mountains in this area when we were children. Now we recreate those experiences for our family. We both work full-time and our two oldest children have completely different school schedules because they are in different school districts, but we always find time to be outside.
I spent twelve years living in the Middle East and a year in Utah. Al lived seven years in New Mexico and I lived there for five. We've been back in Montana for five years and we are so glad we moved back. My husband works in the oil field and I work in human services. Our oldest child is in the third grades while our toddler hangs out with grandma. We have two dogs, a garden and chickens, no tv, and tons of books. Our house is on twenty acres so we have a small garden and are hoping to expand it to a small homestead/farm in the next few years. We're just a regular family who enjoy being together outdoors. Our hobbies as a family are backpacking, hiking, camping, kayaking, off-roading, hunting, fishing, winter sports and playing croquet, to name but a few.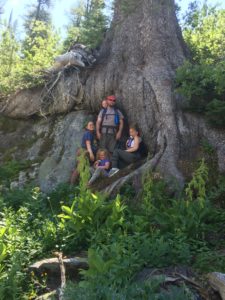 I hope you stay around and follow our adventures. You never know what you'll find here, a little bit of everything including recipes, outdoors and gardening tips, and more. If you haven't already, be sure to sign up for the newsletter and check out the "Castiron Camping Cookbook". And most important of all, be outside with no limits.