Last year I decided that I wanted to do something nice for myself every month, because I do so much for everyone else and I figured it would be nice to have something just for me. All of my friends were posting about their lovely subscription boxes, so I decided that's what I wanted to do to reward myself. There are so many different types of boxes out there from books and make-up to clothes and food. I wanted something that would be useful, affordable, cost-effective and fun. I am not very girly, so most boxes out there don't really suit my style.
Because I spend a lot of time outdoors doing different things, I decided I wanted something that I could use on my outdoor adventures. So I googled "outdoorsy subscription box" and came up with a whole list. There are so many different ones out there for kids, for bikers, for hikers, for survivalists and more but I needed something that was not so specific and had a variety. I also wanted to receive a monthly box and not a quarterly one, because that's a large sum to pay all at once. So after doing some research, I picked "The Nomadik" subscription box. And it's actually turned into something for the whole family. I have been a subscriber since March 2018.
I did not receive any compensation for this post, however I did receive a free box to review from "The Nomadik" separate from my subscription. I am happy to tell you it was the same exact box that I received that I had paid for, which was great because it means that they wanted my honest opinion. Some companies for reviews, will send a different item to reviewers to get a better review. I felt this showed honesty and that they wanted a genuine opinion. Also, this post does contain affiliate links at no cost to you.
A Little Bit About How It Works: You get your box at the end of the month usually between the 23th and the 28th. Subscriptions start at $29.99 monthly depending on if you pay annually, quarterly or monthly and do not include shipping. You can also earn points towards earning a free box. Some of the stuff included in their boxes is gear, snacks, tools, accessories, bags and pouches for various purposes and even clothing like hats and socks. Each box also contains coupons for some of the items featured as well as previous items.
Please note, this post may contain affiliate links. By clicking on those links, I may earn a small commision at no cost to you.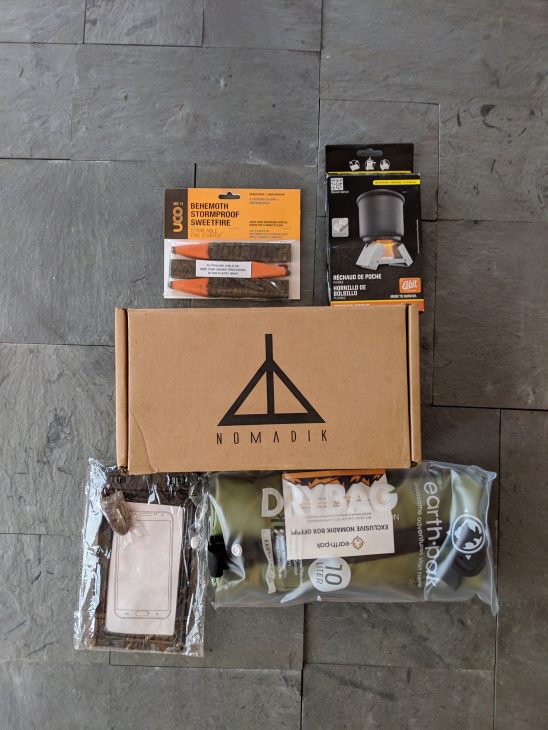 As Featured In The November 2018 Box- Unstoppable Explorer
Earthpak 10L Torrent Dry Bag And EarthPak Waterproof Phone Case– This great dry bag is made out of 500D PVC material that protects gear from getting damaged or wet. The zippered, roll-top closure makes it air-tight, preventing any moisture to get in it and ruin your stuff. The attached D-ring and 36 inch strap allows you to attach it to anything, as well as makes it very easy to carry. The phone case is 100% water-proof and keeps your phone safe from getting wet. With the clear cover, you can use your phone to take pictures and video, use your GPS. The dry bag is a decent size and is something that I would use kayaking or canoeing. I really like that it has an adjustable carry strap and a zippered pocket. It looks to be water-proof and not just water resistant, as well as durable. The phone case is something that I was take camping, fishing and skiing because it's light weight and we have had too many phone-meets-water accidents.

Esbit Pocket Stove with Solid Fuel Tablets– This compact stove is small and light-weight. It has two selectable cooking surfaces so that you can either use a pot or a cup. The stove also came with fuel tablets and each tablet burns for about 12 minutes, enough to boil 1-2 cups water. Because I backpack with the kids, we usually use butane balloons because we have to cook for so many. I would however use this if I was day hiking and wanted a hot meal or solo backpacking. I liked that the tablets are easy to light and don't go out. I did add this to one of our emergency kits.
UCO Behomoth Stormproof Sweetfire Fire Starters 3 Pack– these large fir starters are made out of renewable bio-fuel which is sugarcane. They burn for 15 minutes each and are like a really big match. These are useful when starting a campfire outdoors or even your fireplace. This is a really great product. I actually got some smaller ones in a previous box and found them very helpful to light a fire when it's damp and wet. I keep a pack above my fireplace and a pack in our camping box.
This month's tips were about being mindful of weather conditions while bwing outside. The challenge for this month was to take a flat lay photo of your gear for your next adventure and the prize was 3 free months for the subscription.
As I mentioned in the video, our family does a lot of outdoors stuff. I think this is why I like The Nomadik so much. All of the products that we have received so far have been useful in multiple ways . Between our backpacking gear, car camping box, emergency kits and other outdoor stuff, I've used every single item except for some poison ivy wash because we don't have that in the places we go. The food items they have included like nut butter and energy bars is awesome, because it has allowed me to try these without having to buy a whole box and hope they get eaten.
I really like this box for several reasons, the first being that I have tried items that I didn't know existed but now I use all of the time. Another reason is that it's affordable and you definitely get your money's worth. The Nomadik is also really big into promoting products from start ups, small businesses and causes. Some of the companies that I have been introduced to because of this subscription are Luminaid, Colter Co, NoSo, Parks Project and Uco. Plus, it seems like The Nomadik and all of the companies that they work with, are pretty approachable and personable when I have contacted them. Nomadik featured some sunscreen samples for Amnivara ( a natural zinc-based sunscreen) and when I contacted them, they sent me more samples for my mom free of charge. I have used some of the coupons to save more money on the products I really loved and I find the little brochure informative and fun. Plus, the monthly challenges are pretty fun.
The Nomadik subscription box makes a great gift or fun thing to have not just for outdoorsy people. It would work great for anyone that road trips or travels. And even though it's not specifically geared towards families, I think there is something in it for everyone. My kids get so excited when we get our box and even fight over opening it. They like to try new things. I recommend this box and you can get more information by going to here.
You can also follow The Nomadik on Instagram and Facebook. I did mention The Nomadik previously as one of the 5 Ways To Get Affordable Outdoor Gear. Definitely check it out. And don't forget to subscribe to our page for updates and giveaways. Be outside with no limits!!!!