A couple of nights ago during family dinner, me and all of the boys sat around the table discussing our fishing trips for this year. We talked about our ice fishing trip that we have planned next week to Georgetown Lake, where we will be fishing for rainbow trout and kokenai salmon. The discussion then led to fly fishing. We have fly poles and go out a few times each year, but we all came to the conclusion that fly fishing is pretty intimidating. You go to the fishing store and there are thousands of flies and it is very overwhelming. It looks so complicated and there is a whole science to it. In the movie "A River Runs Through It" they make it look so easy, but that doesn't seem to be the case…or so we thought.
 I had just received "Simple Fly Fishing" and realized, "Boy, are we wrong". The whole premise of this book is that fly fishing is as complicated as you make it and it shouldn't cost you thousands of dollars (you heard me right) for a great day of fishing with an outfitter and gear. It simplifies the art and sport of fly fishing. The philosophy of the book is that you don't need high-tech gear or fancy flies, all you need is a rod and one fly. How did we get sucked into the whole snob mentality and expensive trap of fly fishing? Why is fly fishing so elitist? And here we had the answer, sitting right in front of us. It cannot get simpler than what this book discusses. **Please note, this post contains affiliate links at no cost to you,  but by clicking on those links we can receive a small commission that ensures we are able to continue to provide you with great content.
There are two types of fly fishing, Western which most people know about that consists of a rod, line, reel and lots of weird flies. And then there is Tenkara, which is based in Japan and is hundreds of years old. The Tenkara method takes away the reel and gets you back to basics. It consists of a bamboo or fiberglass pole and a line, no reel and a fly. I have heard many stories from my mom and her cousins about fishing out on the ranch with a stick, some line and a fly. Apparently my mom caught more fish that way than any other, so back to basics…
Book Review–" Simple Fly Fishing- Techniques for Tenkara Rod & Reel" written by by Yvon Chounaird, Craig Mathews and Mauro Mazzo and published by Patagonia Books

Synopsis: Modern-day fly fishing, like much in life, has become exceedingly complex, with high-tech gear, a confusing array of flies and terminal tackle, accompanied by high-priced fishing guides. This book reveals that the best way to catch trout is simply, with a rod and a fly and not much else. The wisdom in this book comes from a simpler time, when the premise was: the more you know, the less you need. It teaches the reader how to discover where the fish are, at what depth, and what they are feeding on. Then it describes the techniques needed to present a fly at that depth, make it look lifelike, and hook the fish. With chapters on wet flies, nymphs, and dry flies, its authors employ both the Tenkara rod as well as regular fly fishing gear to cover all the bases. With paintings by renowned fish artist James Prosek, as well as inspiring photographs and stories throughout, Simple Fly Fishing reveals the secrets and the soul of this captivating sport. Foreword by American landscape artist and fly fisherman Russell Chatham.
Please note, this post may contain affiliate links. By clicking on those links, I may earn a small commision at no cost to you.
Why I Chose This Book: This book was kindly sent to me by Wild Ridge Public Relations on behalf of Patagonia Books.
About: This book is written by Yvon Chouinard, founder and owner of Patagonia, and renowned fly fishermen Craig Mathews and Mauro Mazzo. "Simple Fly Fishing- 2nd Edition", simplifies the art of fly fishing. It eliminates and debunks  all of the intimidating factors and myths like fancy gear and the mind-boggling theory of  flies, and makes it all seem easy. By creating a simple guide to fly fishing without all of the distractions and complexity, this book encourages beginners to start a new hobby. From the front cover to the back page, this book is packed with beautiful and vibrant full-color photos and illustrations and tips.  It discusses the different types of fly fishing and the different methods. The book provides details on how to cast, what types of flies to use, what fish eat and how to find them and even a guide to identifying the different types of fish. It explains what nymphs, wet flies and dry flies are and how to be successful at fly fishing. There are also multiple fishing stories, which makes this book even more unique and inspiring to fishermen, seasoned and novice alike.
My Thoughts About This Book: It is not "just another fishing book". I fish as often as I can and carry a pole and a fly rod in the car year round. However, fly fishing has eluded me because I get so worried about if I am doing it right and flustered, especially when I see guys out on the river that look like they have been doing this forever. This book, it has changed all of that for me. It's well written and easy to follow. The multiple illustrations and color guides are great references for tying knots and distinguishing different types of flies. There is a lot of information on what areas to fish in, what types of food the fish are eating and the different species of fish. There is a lot of step-by-step, clearly written instructions and guidance on how to fly fish using the Tenkara method and some great stories.
I really enjoyed this book. It has really helped me better understand fly fishing and feel more comfortable with it. There are not a lot of women who fly fish and the younger generation does not seem as interested. My son loved it the minute he saw the cover and keeps asking me "Mama, go fishing? Go eat fish"? I will refer back to it again and again, because the wealth of knowledge in it is beyond my expectations. I had initially thought that it would be really complicated and technical, which it isn't. This book also made me really want to get out there and fly fish more, without feeling insecure and unsure of myself. Also, I fish mainly creeks and river banks so I think this would work much better for me.
I would recommend this book to anyone who is interested in fly fishing, even if they don't have the opportunity to get out there and try it. You do not have to be outdoorsy or fish to enjoy this book. It's a great introduction to the world of fly-fishing and easy to understand. And on a final note, I would go fishing with these guys any day!!
You can purchase this book by going here.
**Each author is donating all of their royalties to environmental causes, in addition to 1% for The Planet, that is automatically donated with any Patagonia product.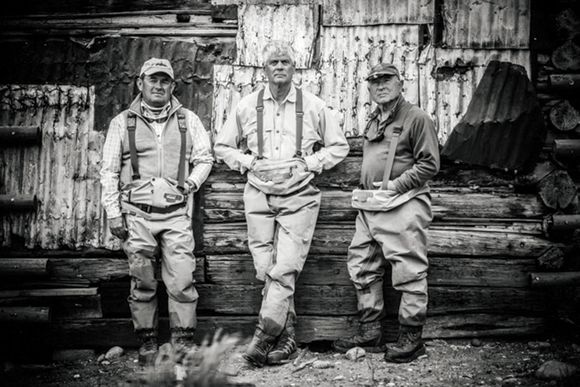 About the Authors:
Yvon Chouinard, a noted fly fisherman (chosen by Fly, Rod and Reel as "Angler of the Year" in 2009) and environmentalist, is the founder and owner of Patagonia, Inc. He cofounded, with Craig Mathews, 1% for The Planet, a group of businesses giving back to the environment. A bestselling author, "Simple Fly Fishing" is his third book and first release in the hunting and fishing genre. He lives in Ventura, California and Moose Jaw, Wyoming.
Craig Mathews, with his wife, Jackie, is the owner and founder of Blue Ribbon Flies, a retail fly-fishing outfitter based in West Yellowstone, Montana. Craig has authored five books on fly fishing in the western US and Yellowstone National Park and is renowned as an expert fly fishing guide.
Mauro Mazzo is an FFF Certified Master and THCI Casting Instructor, and he writes and photographs on a regular basis for European fly fishing magazines. He has fished around the globe from the Italian Alps to Himachal Pradesh, from Cuba to the Kola Peninsula. He lives in Milan, Italy.
You can follow Patagonia Books on Twitter, Instagram and Facebook for more information on more great books.