Camping can be one of the greatest adventures. I love making memories with my family in the great outdoors. But it is even better when we can create food-memories. The majority of my favorite camping trips revolve around food, and I want others to experience that as well. Camping food shouldn't be just hotdogs and chili. It should be hearty and filling and delicious. And it should be easy to cook outdoors and not intimidating.
That is why I am so excited to share with you my new book, "The Cast Iron Camping Cooking", now available for pre-order. I've heard from many of you that some people are so afraid to go camping because they don't know what to eat. This cookbook should make it much easier. With this wonderful camping cookbook and only a cast-iron skillet and fire needed, this should be the next "gear item" that you buy for your camping box. There is a little bit of everything for everybody.
This cookbook includes:
Tips for setting up a complete camping kitchen, including food storage
How to care for your cast-iron skillet and choose the right one
Tips on how to start a fire and cook with a skillet on a grill and over a campfire
Family-friendly tips to get everyone involved in cooking
70 different recipes inspired by traditional and international cuisine
Includes recipes for breakfast, lunch, dinner, dessert, and snacks
Many vegetarian and vegan recipes
Every recipe in this book was inspired by a particular person or camping trip. My first memory of camp cooking was making pancakes with my dad. The first time that I made pancake with my dad, I was probabky about nine years old. We went to visit some friends in the mountains, who were living in a incomplete log-home and a teepee. My dad threw a topper on the back of the truck with a mattress inside and off we went to visit his friends.
Please note, this post may contain affiliate links. By clicking on those links, I may earn a small commision at no cost to you.
It was raining and cold that night. We woke to frost covering everything. My dad pulled down the tailgate, opened up his green Coleman stove, and started mixing up a big bowl of pancake batter while the cast-iron skillet heated up. Out of nowhere, he pulls a bag of huckleberries out of the cooler and adds them to the pancakes. Those pancakes were the best pancakes I have ever had, probably because it was so cold and I just wanted warm food. But also because I know those pancakes were made with love. I will never forget that camping trip. I am hoping that some of these recipes will make your next camping trip memorable, just like that one.
Some of the recipes included in this cookbook are:
Lemon-Blueberry Pancakes
Green Chili Breakfast Burrito
Bannock Bread
Mediterranean Shawarma Pocket
Fry Bread Tacos
Campfire Paella
Chili and Cornbread Pie
Vegetarian Campfire Skillet
Campfire Eclair Pizza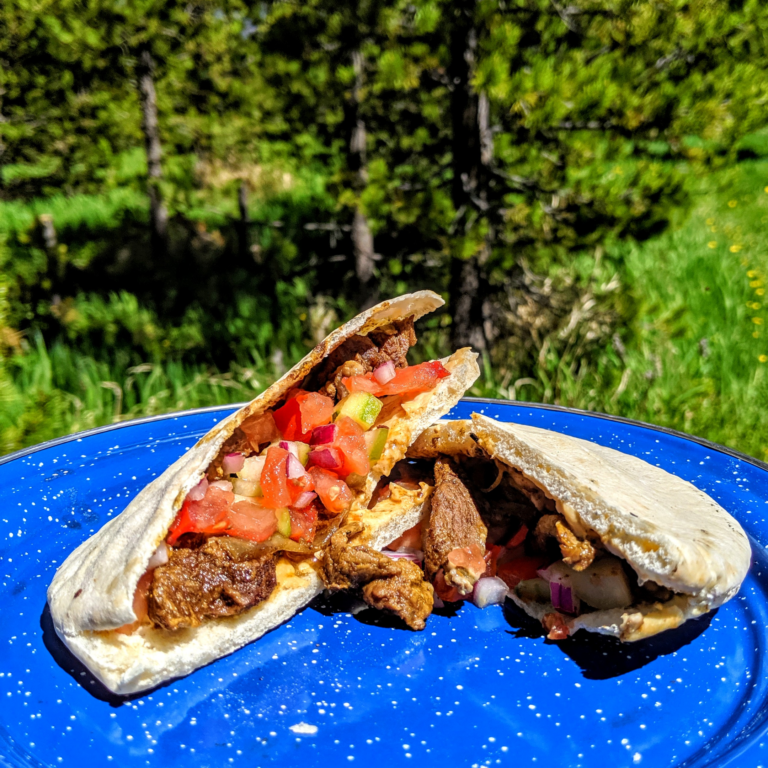 Food, camping, and family are some of my favorite things. This cookbook brings all three of those together. I hope to inspire you to get outdoors more, to experience campfire cooking at it's finest, and to eat well under the big sky and starry nights. Let the campfire be the soul of your next camping trip, by creating delicious meals and fun times. May our favorite camping recipes become part of your camping traditions. Be outside with no limits, and make wonderful food-memories.