One of the favorite things we like to do as a family is to go off-roading.  The mountains are about to close for the winter, so we took a camping/off-roading trip a few weeks ago. The trail that we rode on is to Capri Lake here in Montana and is about 20 miles one-way, at times with a 150 foot or more drop-off. The views are amazing and after the long ride, we definitely enjoyed swimming and fishing in the lake. The best thing is though, that this lake has amazing fishing, every cast guarantees a fish, I kid you not!!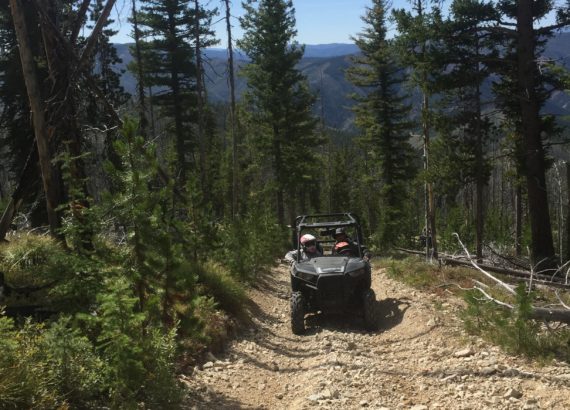 Off-roading can be dangerous and each year there are fatalities. Not only that, many times you are not close to any phone or assistance should something happen. It's always good to be prepared because you can never know what will happen.
On this last trip we had four Polaris RZRs, two four wheelers and two dirt bikes with five adults and seven kids. We got dusty and dirty but it was definitely worth it and we all had a blast. As we were coming down one of the ridges (a 250 foot drop off) the brakes went out on me while I was driving one of the RZRs and the engine break failed to kick in. There I was barreling down the mountain with no breaks and the RZR just stopped on the incline. I have no idea how it stopped but I am glad it did. May this never happen to you because my heart was racing and it was crazy!
Please note, this post may contain affiliate links. By clicking on those links, I may earn a small commision at no cost to you.
I was able to pull over, and wait for my husband who was not far behind me. My husband and his brother towed it out about seven miles to the closest road access. But before that happened, while they were towing it down a hill with a brand new 5000 lb. rated tow strap, the strap snapped and the RZR fortunately got stopped by the four wheeler in front of it (otherwise my brother-in-law would have ended up at the bottom of a 250 foot drop). Apparently the break line got snagged and busted when my husband decided to log-hop. That's why there were no breaks and the engine breaks failed because the engine overheated due to a snapped coolant line.
Nobody got hurt, and we very fortunate. The reason nobody got hurt is because we have guidelines and safety rules that we follow every single time we are out. We love being outdoors in all different capacities but we also know that injury can happen if you are not careful. Here are six safety tips when off-roading.
Complete a safety check of your vehicle/atv/motorcycle. In this instance we completed one, but didn't see anything. Check your breaks, tire pressure and under the vehicle for any leaks. I did a safety check and did not see any leaks.
Safety first. Wearing a helmet can prevent injury. Wear a seat built if your vehicle has one. Follow the guidelines for number of riders per vehicle, and don't do anything crazy or dangerous that would put you in harm's way like trying to drive off a cliff or put yourself at risk of rolling over such as speeding. We also carry goggles, no one likes dirt in their eyes.
Be prepared. We always carry plenty of water and warm coats in case we get stranded. We also have walkie-talkies that we used if we are going in a group. Carry a map, a GPS, a tire gauge and a tool box. We also bring along a tow strap for instances like these. I also have an emergency kit with a first-aid kit, emergency blanket, flares and matches.  Another thing we take with us is extra oil, coolant, gas and break fluid. This is not the first time a line has snapped on us.
Be aware of your surroundings and those with you. Take the time to stop and wait for your friends. Our friend who had the tool box just kept going until he was back at camp and no one had showed up after two hours. Use radios and the buddy system. Make sure before you go that your walkies are charged, as well as keep them on. There are many times that these have helped us not to get lost and in an emergency you can radio for help.  We had a family member that fell off of a 150 foot cliff and somebody else on the trail had a radio and was able to radio out for help.
Go during the day-time. If the sun sets and you're still out there, you are more likely to get lost or get hurt because of the dark. Night-time reduces vision and if you are hurt/lost and need to be rescued, a rescue team will have a harder time because they can't see either.
And have fun!!!! That is the most important thing. Take pictures, make memories and enjoy being outside. My dream is to get a GoPro to document our wonderful, crazy adventures.