October is here and it's autumn. What little trees we have here in Montana that are not evergreens, are changing color to vibrant shades of crimson, orange and gold, mainly the shrubbery, and I've been lighting a fire at night for several weeks now to warm up the house. The mountains get shut down on October 15th and there's a bit of transition for us from camping and backpacking to winter sports and ice fishing. And apparently, it also means in the blogging world its the beginning of Blogtober.
One of the interesting things I am finding out about blogging is that there is a whole community out there, ready to help you when you're struggling but also supporting you and getting you involved more. It's such a supportive community, that really work together and support one each other in succeeding and growing. And for Blogtober, I had another blogger tag me in a challenge: write a post about fall. It reminds me of all of the writing challenges I had when I was in college and the use of prompts to get the creative juices flowing. So I accept the challenge, and here are my ten favorite things:
I used to love candles, but I have kids and I'm always freaked out they will light them and catch the house on fire. So for years, I've been using wax melts instead for a fire-less alternative. In the summer I usually go all floral but in the fall my favorite scent is the smell of cinnamon and apple pie. Besides wax melts, I very impatiently wait for the cinnamon scented pine cones that you can find everywhere before Thanksgiving. They smell so good, that I could eat them.
When I think of autumn, I think of the days getting shorter, less sunshine and chilly mornings. I thrive in heat and sunshine, which are things that are very short-lived in Montana because we have a really short summer. Fall also makes me think of firewood, we heat our house with wood heat and fall means that I better make sure we have cut plenty of wood otherwise it will be a long, cold winter. But fall also means the beginning of the holiday season and holidays to me mean family.
I have so many favorite Halloween movies, but I don't know if they would be considered Halloween movies. When I was a kid, my family did not celebrate Halloween but we had a harvest party instead, like Halloween but no costumes. And we always watched the same movies: "The Watcher in the Woods", "The Labyrinth", and "The Goonies". My family now watches those same movies, but we've added "Harry Potter", "Hocus Pocus", "The Adams Family", and "Back to The Future". And whenever it airs on tv and we're able to catch it, we watch "It's The Great Pumpkin Charlie Brown."
I love Halloween because I love the costumes. I don't normally dress up. Maybe it's because I always feel that someone is more clever at it. But my kids always dress up. It's already October and I keep reminding the kids that we need to figure this out and decide what they want to be, but then we get distracted and don't order them. Same thing, every year, and then it's a mad dash to figure something out. Last year Brook was a pirate and Niva was a huntress. Eli didn't even dress up. I think the girls will probably go in a girly direction this year and maybe I'll make Eli wear plaid and put a beard on his face so he can dress up as his dad.
My favorite fall drink is mulled cider. Maybe it's because apples are a pretty big deal around here. There are several local orchards, most people own a few trees and there's even a local company that makes hard cider. We even have a whole event called Apple Days that happens every year. Apple cider has just been one of those things that I've had since I was a kid in the fall. When I was in the first grade, we visited one of the orchards and got to help make the cider. There's nothing like apple cider that's been warmed up with yummy spices to take the chill off after a cold day.
My favorite fall trend, if you can call it that, is hoodies! I love a warm, cozy, hoodie. I also love thermals, fleece and wool socks. If I was a millionaire, I would wear brand-new fleece hoodies and socks every day.
I love hand lotion in the fall.  Because of the weather change, my hands get super dry. It's so important to have a really good hand cream to keep your hands moisturized and soft. I invest a lot into buying hand creme. It's one of my favorite beauty products.
One of my favorite things about fall is pie. How can you choose which pie is your favorite between apple and pumpkin pie? I love them both equally and could eat a whole pie to myself. I like home-made whipped cream with my pumpkin pie and vanilla ice-cream with my apple pie. Pie is my favorite all-time thing about fall, if I had to pick one thing that I loved the most.
I have several fall traditions. I love collecting leaves with my kids and then preserving them. We also go to the pumpkin patch every year and pick apples. Our newest tradition, and this year it will the third year, is going to the historic Daly Mansion Haunted Hayride. The Daly Mansion is an important land mark in our valley and all proceeds go to maintaining the site. There's nothing like riding on a trailer amongst tall, looming trees getting started by a  headless horseman riding out from behind an old, empty mansion. The local high school drama and theater club and the local theater groups volunteer and produce the event each year. It's so much fun (http://dalymansion.org/). We also have our own harvest party at home. All of the kids come dressed up and we break a pinata.  The parents get to visit and drink yummy adult beverages while the kids watch Halloween movies. There's lot of food and fun times and at least forty people.
Autumn would be my favorite season if I had to choose a favorite. I love all of the colors and smells and traditions and holidays that come with it. The only thing that makes me sad about the fall is that it means it's almost winter. It also means no camping for eight months.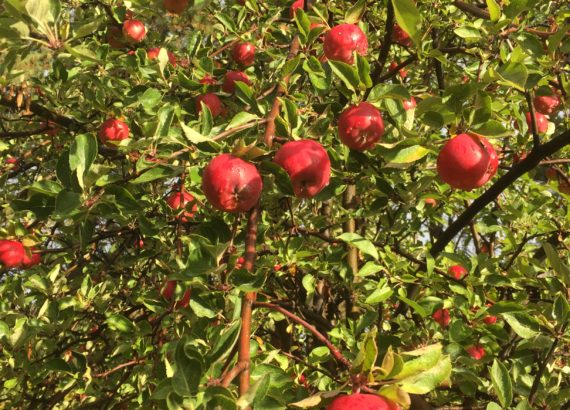 Please note, this post may contain affiliate links. By clicking on those links, I may earn a small commision at no cost to you.
What are your favorite things about fall? Is it your favorite season? Do you even live in an area where there is a true fall and change in weather?  Hopefully you are able to get outside and enjoy everything that autumn has to offer. I know am enjoying it right now.