I love being able to share with my children all of the places that I used to go to when I was a kid and explore the great outdoors. My husband and I were both raised here in Montana. Most of those places that we explored as children are still open, but some aren't anymore or there are multiple restrictions.  Just last year two of our favorite spots were shut down, one to rehabilitate wildlife environments and the other was shut down because of the large amounts of vandalism. A few other places were shut down because they had to be accessed through private property and the home=owners were fed up with trespassers, trash and a lot more. I want my children to be able to continue visit and explore these places and others all over our beautiful country. They won't be able to do that or share with their kids unless we take care of those places. Whether it is a park or a camp site or a mountain, we need to do our part.
You may have heard of "Leave No Trace" or "Leave No Footprint", and even "Pack It In, Pack It Out". These basically are the guidelines and philosophies for keeping the outdoor areas that we spend our time at  clean and preserving them so that later on, other people can enjoy those same places and create memories. How often have you gone somewhere and it's covered in trash, or there's shell casing everywhere or broken branches? This is the best way to take care of those places and prevent them from getting shut down so that future generations can have the same experiences.
Pack It In, Pack It Out– Any trash that you have, take it home with you. Don't leave it behind or drop it down a cranny. Pick up any shell casings you may use, cigarette butts and little pieces of paper or plastic. We like to do a fifty-foot sweep around our campsite as well as other areas we have spent time at like a fishing or swimming hole. Try reducing the amount of trash you create by not using disposable plates or buying cases of water.
Please note, this post may contain affiliate links. By clicking on those links, I may earn a small commision at no cost to you.
No One Likes Poo On Their Shoe– Designate an area for human waste. Pack out toilet paper and hygiene products. We recommend digging a "cat hole"- a small hole about 8-10 inches deep, away from streams and water sources and burying human waste. When you can, use a public outhouse or even a portable camp potty.
What Smoky the Bear Said– Only you can prevent forest fires. Campfires can be very destructive even though they are a camping tradition. So follow the rules. Light a fire in a  designated ring. Follow all restrictions and guidelines posted by your county. A few years ago, some kids who were camping in the mountains, lit a fire directly on the forest floor in an undesignated area amidst forest debris. This fire led to the Roaring Lion Fire in 2016, costing over $11 million, destroying multiple homes, burning over 8,00 acres and also leading to multiple budget cuts in State funding because Montana went over the fire budget that continue to affect Montanans two years later. The fire burned underneath the ground, causing the fire.  Clear area of all brush. Use downfall and fallen branches for your fire instead of cutting down existing trees.. Use a camp stove and a lamp instead and enjoy the stars instead of lighting a fire if you can. And dead out means dead out. Burn fire out until it's cool to the touch. We prefer to use water instead of dirt because  even though it may look like dirt, it could just be decomposed vegetation or duff which is very combustible.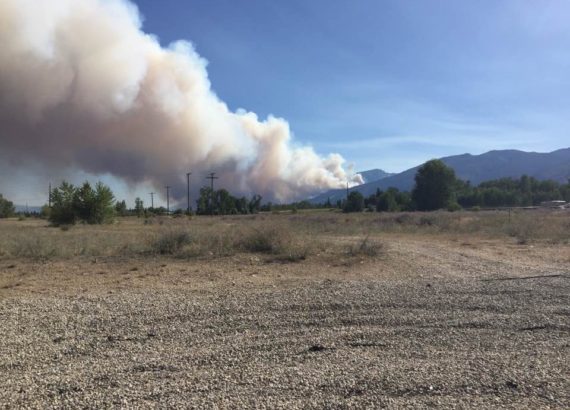 Stay on The Trail– Staying on the trails reduces your impact on the area. The goal is to reduce our impact and by creating new trails, this deviates from the purpose. If off-roading, stay on the designated trail and don't create new ones. Trails are shut down all of the time because of high-impact. Most trails have signs posted for what type of traffic is acceptable: hikers, horses, vehicles, dirt bikes, atvs and snowmobiles to name a few. There are even some trails that the allowed traffic is only during certain times of the year. Tread lightly.
Don't Feed the Bears: Use proper food storage. Don't feed the animals. Feeding the animals can make them sick and also make them used to humans It's just silly to try an approach a moose or a bear for a great picture. It can even be dangerous. Also, animals can carry some serious diseases like rabies. Chipmunks are cute but if they start to rely on people for food, they lose their natural instincts to gather and store. If you find baby animals, leave them alone including birds, squirrels, and baby dear. Usually, they have not been abandoned and the mother animal is nearby. A lot of the time because of people thinking they are rescuing the animal, they are actually harming it and each year animals like buffalo, bears and deer have to be euthanized. Hunt and fish in designated areas during the appropriate seasons and check on guidelines regarding certain areas. You don't know if any animal is considered endangered unless you do your research. For example, there is a fish in our area that you are not allowed to catch and if caught, needs to be released. If you are hunting and fishing, have a valid permit and check regulations.
Follow the Rules–  Signs are posted for a reason. Respect private property if you are in an area that you have to drive or walk through someone's residence. Watch for posted signs and follow them as needed. You wouldn't want loud hikers in your yard or have to clean up someone's
Leave It Alone– Souvenirs are great, but you don't need to take them home. Some plants and trees are invasive in some areas and nobody needs you to spread them. There's no need to cut down trees to make a walking or roasting stick. If you're enjoying it, let someone else enjoy it too after you have left. In our area, there are several types of trees that are illegal to cut including Ponderosa Pine and a certain type of cedar tree. Many of the water ways  and public lands have private mineral rights and it's a big deal if you remove any rocks or dirt.
For more information, you can go online to https://www.rei.com/learn/expert-advice/leave-no-trace.html or to https://www.nps.gov/articles/leave-no-trace-seven-principles.htm. We like to teach our kids these same principles so that they can pass it forward. Just remember, leave it as you left it and leave no footprint.