Anyone who knows me well, knows that I love vintage art and the outdoors. My office decor is vintage postcards and Norman Rockwell. This week, I added new pictures to my walls: two gorgeous National Park Posters. I love our National Parks and I love my State of Montana, so I chose the two National Park Posters of parks in my State: Glacier National Park and Yellowstone National Park. This was also the perfect way to start off April, because April 20th – April 28th is National Park Week, which is about celebrating our National Parks and giving back to them, just like the artist of these posters Rob Decker does. Not only are they absolutely beautiful and inspiring pieces of art, but they checked off all of the boxes for what we love in products, including giving back to our community. **Please note, these were sent to me free of charge. We only promote products that we love.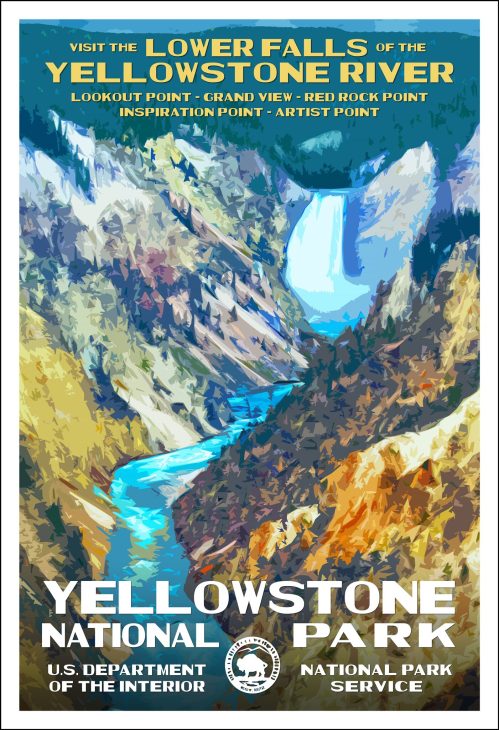 About The Artist– Rob Decker is a photographer and graphic artist. He has been photographing our National Parks for over 50 years, since 1967 when he was eight years old. In 1979 when he was only nineteen years old, he had the opportunity of a lifetime to study study under the great Ansel Adams in Yosemite. Rob's goal is to photograph all fifty-nine US National Parks. Rob's posters, prints, canvases and postcards are inspired by the vintage and retro WPA art of the 30's and 40's. This artist is very talented and his art work is breath taking. To learn more about Rob, his achievements and his process, you can go here.
Design– The posters are brightly colored and have the vintage feel of the National Park posters from the 30's and 40th's. The images depicted are well-known landmarks from our National Parks and the artist does an excellent job of transporting you to an era and time when things were simpler and there was a bigger awareness for conservation of our parks. The posters are all printed on "conservation paper"- 100% recycles paper stock with soy-based ink. He's a green artist! Each print is signed by the artist, attesting that he has personally inspected, numbered and approved and signed each print and further verifies that no unsigned or unnumbered copies within the limited edition are known to exist. The prints look beautiful framed.
Size– The prints are 13″ by 19″ with a matte finish. With this size, it is easy to find a nice frame to keep it in.
Please note, this post may contain affiliate links. By clicking on those links, I may earn a small commision at no cost to you.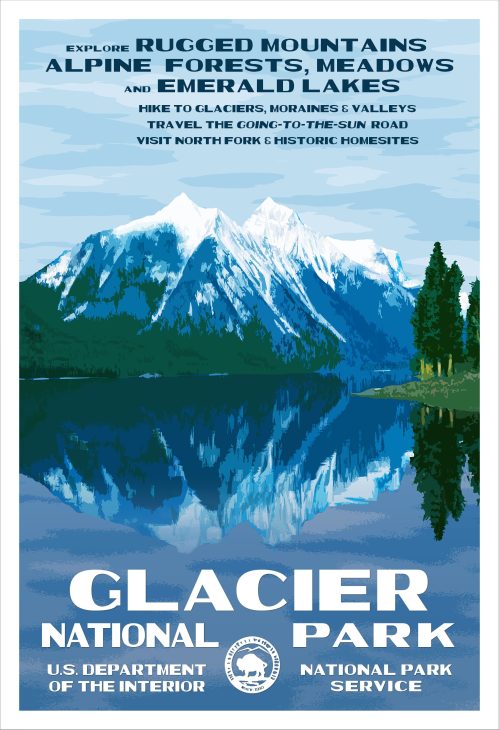 Packaging– I received the prints in a flat, paper envelope. The prints were protected by sheets of cardboard and I received them undamaged and in perfect, pristine condition.
The Company– Rob donates 10% of his profit to our National Parks and many of the conservation groups that support our Parks like Yellowstone Forever,the Glacier Conservancy, Joshua Tree National Park Association and many more. To show his transparency, you can find out the actual dollar amounts he has contributed here. Conservation and preservation are important to Rob, and that is why his posters are printed responsibly. Rob's posters are also 100% American made and printed by one of the greenest printers in the US. Rob also donates some of his pieces of art to conservation organizations to support their fundraising efforts.
National Park Posters checks the boxes for uniqueness, community building, eco-friendly and beauty. National Park Posters also has postcards, and canvas prints. Go ahead and use this code MAMABEAR at checkout to get 25% off of your purchase and a free sticker.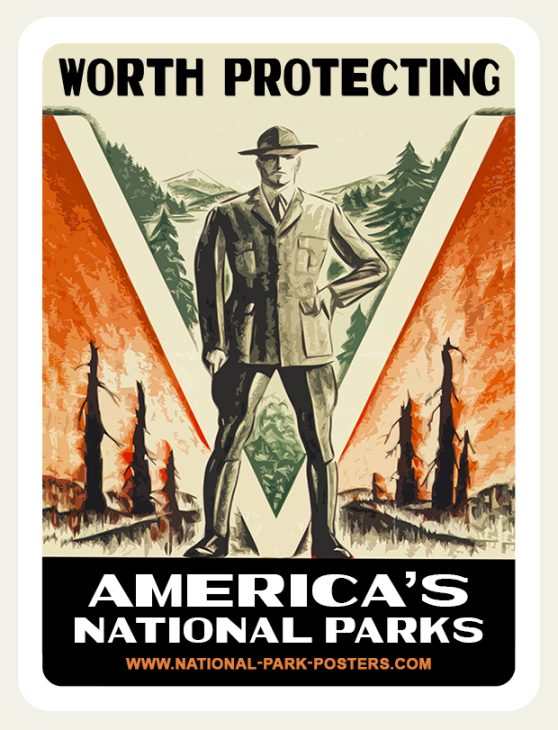 What wonderful pieces of art. I love when an artist not only shares their creativity, but also gives back. You can see that Rob loves what he does and is passionate about his work, through his art. Art is one of the ways to inspire others and start conversations. Rob's goal is that through his artwork, he can generate awareness, not only of the beauty of our parks, but also create awareness about protecting our parks so that future generations can enjoy them. It's also his hope, that through his art, he can inspire the next generation of stewards. I hope you are as inspired by his work as I am. Let us know which of his posters is your favorite in the comments below. You can follows him on Facebook, Instagram, Twitter and Pinterest. And don't forget, be outside with no limits, and love your National Parks! Love, Pauline