What better than to mix campfire cooking with a dutch oven and exotic spices? One of the things that I miss most about Israel, is the wonderful spices you can get at the shuk (local outdoor markets). I usually have my sister bring me over spices whenever she visits, because they are so hard to find here in the US, especially the spice blends. Because Israel is so rich with Middle Eastern culture, it is also home to many spice blends, that have been passed down from generation to generation. It is so hard to recreate these authentic blends and believe me I have tried.
I then decided that the only way that I could get authentic tasting Israeli food or spices, was to go to Israel. And I don't think my sister could fill her bag with all of the mouth-watering Israeli dishes that I love. No more Yemenite soup, no more Iraqi koobah and no more shawarma. Shawarma is a local street sandwich- lamb or beef slow cooked for hours on a rotisserie, sliced thin and then stuffed in a pita with hummus and a simple salad. Food is almost as important to me as being outdoors, and the food is what I miss most about the Middle East. So when I found Pereg Gourmet, I don't think people can truly understand how excited I was. **These spices were sent to me as a courtesy free of charge. All opinions are my own and I only review products that I love.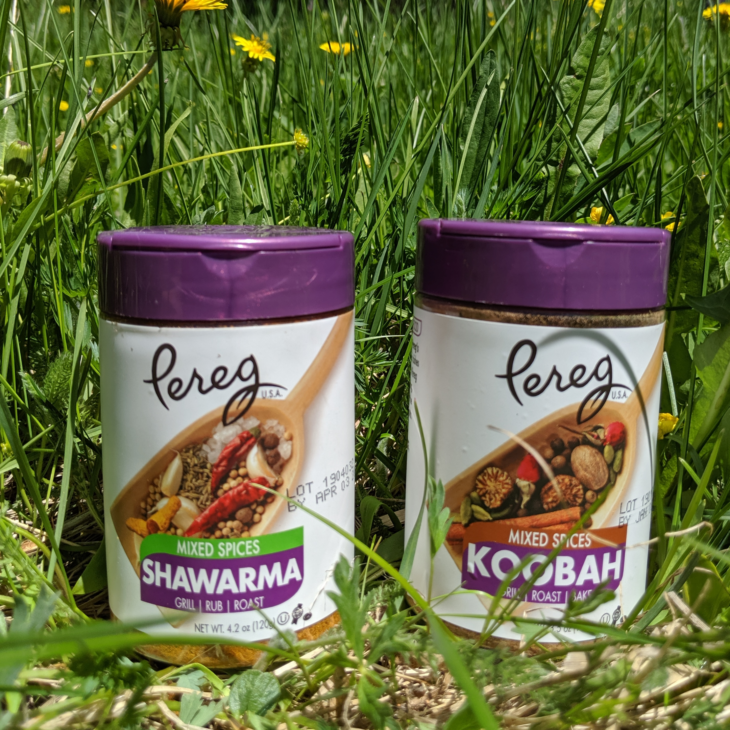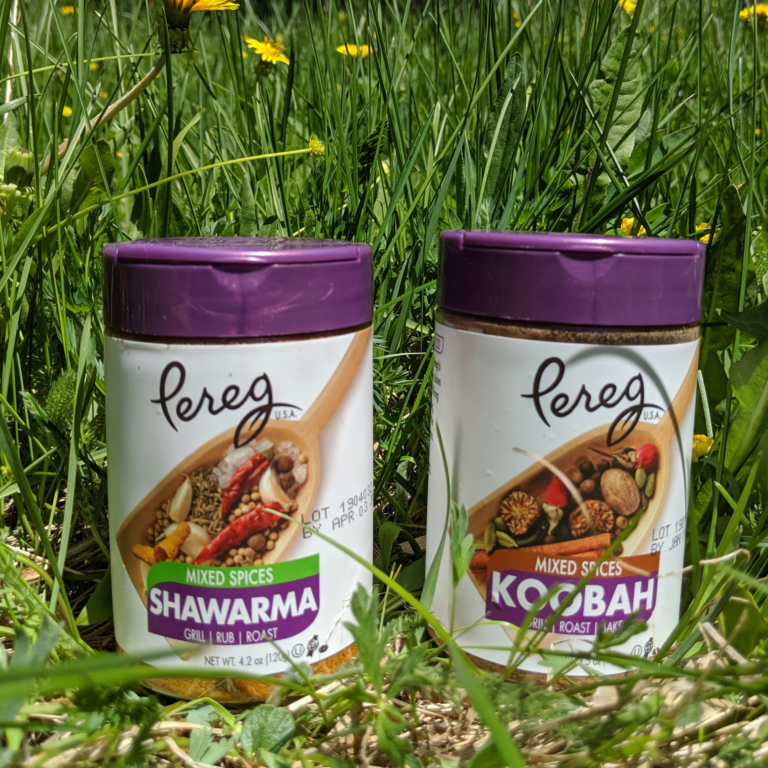 The origin of most Israeli food is based on cooking over a fire so it seemed fitting to try to make shawarma this way. It is simple and easy and because of Pereg Gourmet, it tasted just like the real thing. I used Pereg's Shawarma Seasoning, a spice blend containing paprika, garlic, cumin, turmeric, allspice, coriander and salt. Pereg Gourmet only uses the highest quality for all of their spice mixtures. You can also make this on the stove top in a cast iron skillet.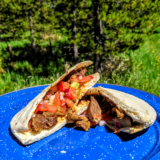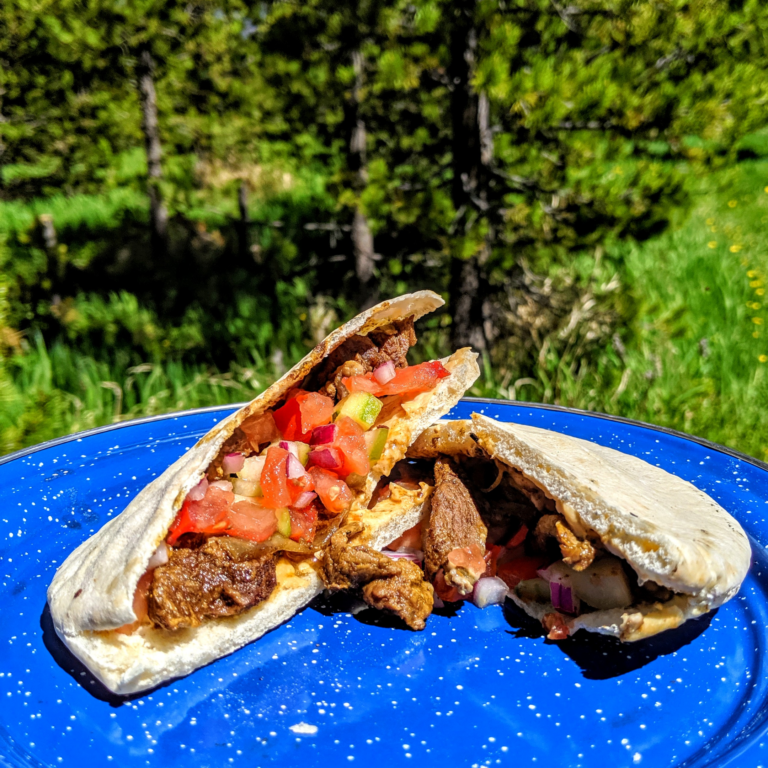 Dutch Oven Israeli Shawarma Sandwiches
An easy dutch oven recipe for campfire cooking that uses exotic flavors to create a simple and easy meal
Please note, this post may contain affiliate links. By clicking on those links, I may earn a small commision at no cost to you.
Ingredients
1

lb

beef preferably chuck or rump roast

1

onion

3

tbsp

olive oil

2

tbsp

Pereg Shwarma Mixed Spices

1

large tomato

1

medium cucumber

1

lemon

1/2

purple onion

Himalayan pink salt to taste

ground black pepper

4

pita pockets

1

8-12 oz

hummus of your choice
Instructions
Build a campfire and allow the fire to burn until it has accumulated a bed of coals. While fire is burning, prepare the meat. Slice the meat and onions thinly.

Add all but 1 tsp. of the olive oil to the dutch oven. Add the beef, yellow onion, Pereg Shwarma Mixed Spices and salt and pepper to taste.

After fire has been reduced to coals, carefully set the dutch oven of top. Use leather gloves to carry the dutch oven. Set timer for 20 minutes.

Dice the tomato, purple onion and cucumber. Add reserved olive oil, and the juice from the lemon. Add salt and pepper to taste. Optional- add some diced cilantro for additional flavor.

After twenty minutes, remove dutch oven from fire, stir thoroughlyouglyly and return to the on new coals for an additional 20 minutes.

Cut pita bread in half. Spread hummus inside each half and add 2 tablespoons salad to each half.

Remove dutch oven from fire. Keep dutch oven out of reach because it is extremely hot. Let cool for 10 minutes.

Spoon 2-4 tbsps meat into each pita pocket half. Serve warm.

For stovetop, cook the meat on medium heat stirring frequently and use only 1 tbsp. olive oil. Takes about 15-20 minutes on the stove. You can also cook this using a dutch oven in the grill at 425 degrees and with the same directions as if you are making it over a fire.
You can also use Pereg's Shawarma Mixed Spices as a rub for BBQ or grilled meat. It is also delicious on roasted vegetables. Pereg Gourmet has a lot of different mixes as well as individual spices associated with the Middle East. Two of my favorites are the Zaatar which I like to sprinkle over hummus with olive oil and dip warm pita, and the Koobah blend that is great for rice or meat kebabs. You can find more of their spices on Amazon or at Pereg-gourmet.com. Pereg Gourmet also has a large selection of alternative flours, ancient grains and gluten-free products. All products are kosher too.
Make sure that if you are using a dutch oven, that it is seasoned properly. When cooking over a fire with a dutch oven, more oil than normal is needed to prevent sticking but the cast iron cooks it off. When cooking over a fire, make sure that you have leather gloves when handling the dutch oven because it can get extremely hot.
Let us know if you try this on your next trip or at home. It is the prefect lunch or dinner when you are camping and are looking for something new to try. I was surprised how much the kids enjoyed it. Being on the other side of the world no longer keeps me from enjoying the cuisine that I love. Nothing should stop you from eating good food, or from being outside. Be outside with no limits. Love, Pauline