Pancakes are one of the quickest and easiest meals to make when you are camping. It is the one thing that I can remember my dad always making when I was a kid for every trip. I can still smell those pancakes sizzling in the cast-iron skillet over his Coleman stove. He would toss in wild huckleberries if it was the right season and there was always enough for seconds and thirds.
It has become a tradition for many of our camping trips, especially when there is a crowd. My kids love pancakes, but my husband doesn't like them. So when I needed to come up with a pancake recipe for my camping cookbook, I knew I had to find a pancake recipe my husband would enjoy. If I could do that, then I knew it would be a winner.

Huckleberry pancakes are my favorites, but most people have no idea what huckleberries are, plus they are hard to find and can only be harvested from the wild. Blueberries are a great substitute, but I wanted something a bit fancier. I cook a lot with lemons and use lemon to make "buttermilk" when the need arises. So I figured, what would happen if I made a pancake with lemon juice and blueberries?
I came up with a winner! My husband loves these! These lemon-blueberry pancakes are super fluffy, and the flavor is oh-so-good. I think he hates regular pancakes because they can be bland and flat. I cannot even imagine eating regular pancakes anymore and this flavor-combo makes these pancakes extra special.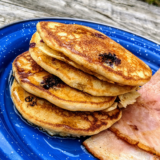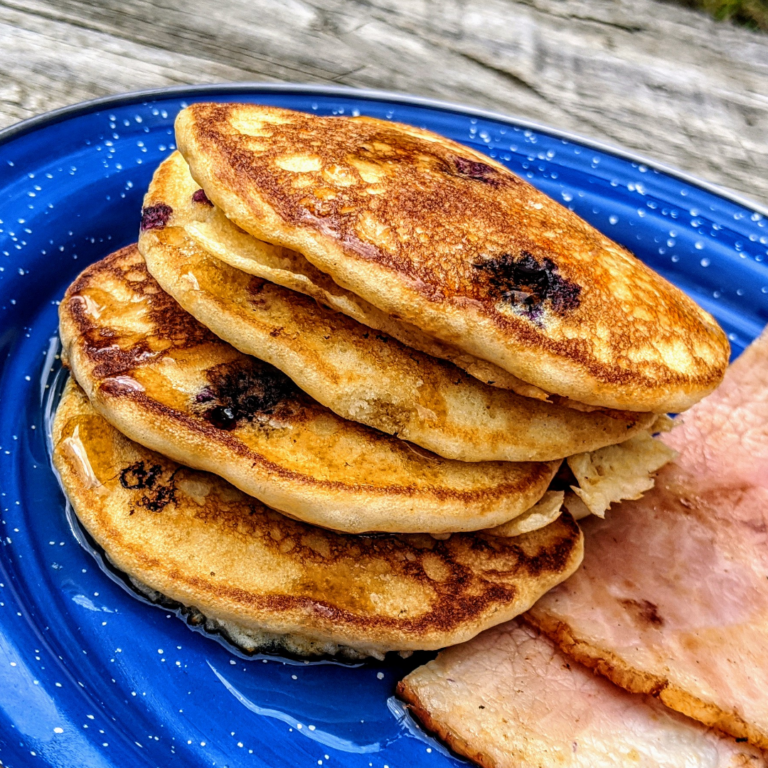 Lemon Blueberry Pancakes for Camping
These delicious and fluffy pancakes made in a castiron skillet make camping extra special. With this winning flavor combination, you'll be doubling and tripling this recipe. This pancake recipe is perfect for camping, or even at home on the stove-top. This recipe is excerpted with permission from the "Cast-iron Camping Cookbook", Callisto Media/Rockridge Press, June 2020.
Please note, this post may contain affiliate links. By clicking on those links, I may earn a small commision at no cost to you.
Ingredients
3

tbsp

butter

1 1/2

cups

all purpose flour

3 1/2

tsps

baking powder

1

tsp

salt

1/4

cup

lemon juice or juice from 2 lemons

1 1/4

cups

milk

1

cup

blueberries

vegetable oil for cooking
Instructions
Preheat the skillet over medium heat.

Melt the butter in a metal bowl or tin can near the fire for 1-2 minutes. (If you are at home or in an RV, melt in the microwave in a glass bowl. This usually takes 10-30 seconds).

In a bowl, mix together the flour, baking powder, and salt.

In a separate bowl, combine the milk and lemon juice; let it sit for 2 minutes.

Add the lemon-milk mixture, the melted butter, and egg to the flour mixture and whisk until there are no lumps. Add the blueberries in and gently mix together.

Heat about 1 tbsp. of oil for 1-2 minutes. Using a measuring cup, pour 1/4 c. batter into the pan.

When the bubbles on the pancake no longer pop, 1 to 2 minutes, flip it. Cook an additional 2 to 3 minutes, or until golden brown.

Transfer to a plate. Repeat this process until all of the batter is gone, adding more oil as needed.
Recipe Notes
For plain pancakes, do not add the lemon or blueberries. For buttermilk pancakes, use the juice of only one lemon or 2 tbsps. lemon juice. For another delicious option, try using 1 mashed banana or 1 grate apple instead of the lemon juice and blueberries. For a vegan-alternative, replace the egg with 1/2 c. unsweetened applesauce, use 1 c. soy or almond milk, and use 2 tbsp. vegetable oil instead of butter. To save time, mix the dry ingredients at home and portion into zip-top bags.
I have made these at home on the stove-top, in the RV, and over a campfire. The biggest suggestion I would make is if your pan starts getting too hot, just remove it from the heat, because cast-iron retains heat. Even though this recipe was created for a cast-iron skillet, you can also make these on any stick-proof pan.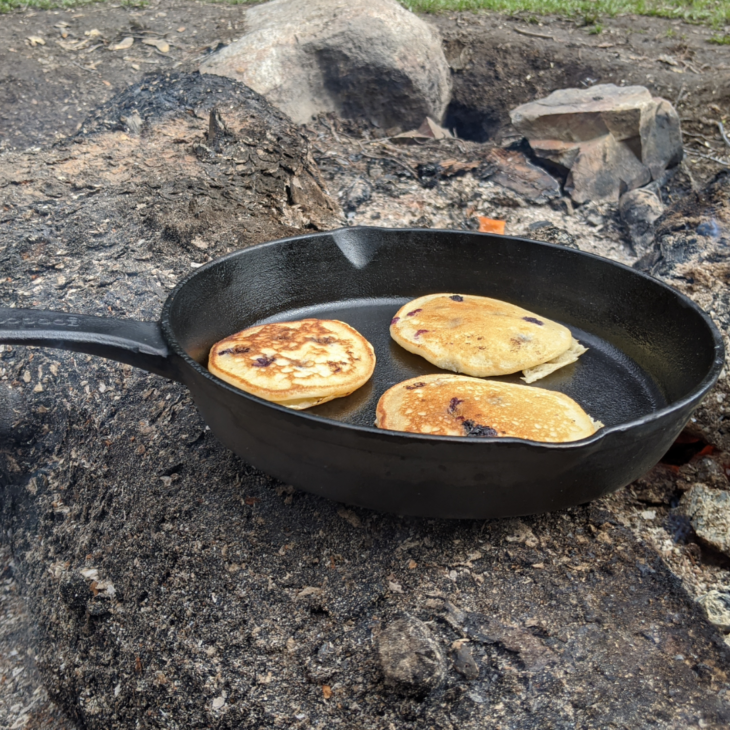 Because this recipe is fairly easy, you can make a large batch for like a family reunion or even a pancake breakfast fundraiser. My immediate extended family (not including my husbands) is over 100 people and I know I can easily feed them them all with this recipe.
Say goodbye to boring pancakes and enjoy this wonderful twist on pancakes. They are so fluffy, that if there is any leftover, you can eat them several hours later as a snack or reheat them the next morning, without them becoming as hard as rocks. Don't forget the maple syrup, and for the meat-eaters, these are awesome with ham or bacon. Don't forget, the dry ingredients can be mixed together and stored to make a pancake mix. Pancake mix can be used for baking and cooking and not just pancakes, as I mentioned before in a post on basic pantry staples.
If you are looking for other camping recipes this summer, be sure to check out my cookbook, the "Cast-iron Camping Cookbook", which can be found online, or at your closest book store or retailers like Target and Barnes and Noble. Some of the recipes included are:
Huevos Rancheros Breakfast Tostadas
Pumpkin-spice French Toast
Backcountry Frybread
Meatball and Coleslaw Hoagie
Toasted Peanut Butter Sandwich
Campfire Pizza
Chicken and Zucchini Couscous
Brats and Pepper Medley
Campfire Eclair Pizza
Cast-iron cooking should not be intimidating. The "Cast-iron Camping Cookbook" includes tips for choosing and maintaining a skillet, setting up a camp kitchen, and hot to cook with a castiron skillet over a fire or over a grill. There are 70 recipes that are easy to make and family-friendly. Most of the recipes are ten ingredients or less. Camp cooking should be fun and not time-consuming so that you can enjoy the wonderful great outdoors.
Let me know if you tried these and how they went. Do you like pancakes? What is your go-to breakfast for camping? Remember, camping is also about food-memories, not just the outdoor adventure kind.