Beef jerky is one of those snacks that everyone takes with them hiking, backpacking, and even road-tripping. It's convenient, keeps well, and gives you the energy you need to keep going. There are all different flavors and textures and brands. It is a personal preference for sure, and everybody has their favorite flavor and brand. Flavor is just as important as texture and you do not want jerky that is bland or overly spiced.
Old Trapper Beef Jerky isn't too tough nor too soft. It's the perfect jerky for when I backpack because I like how it stays firm and I can chew it for a little bit, but not for too long. I actually hadn't tried this brand until our last backpacking trip because I usually buy from our local butcher and meat processing plant. But, that kind is a little too tough for me. And my kids like jerky that is firm, but not super chewy, so they gave Old Trapper a try too. We got to try the Old Fashioned Original, the Teriyaki and the Red Pepper flavored. The Original was so good, I actually used it to bribe my son to keep hiking and it worked, along with wild huckleberries. We all enjoyed our Old Trapper Beef Jerky while hiking, but I even loved it more as an ingredient. Did you know you can add beef jerky to so many things such as eggs or rice? **Please note, this product was sent to me free of charge to review. All opinions are my own and I only recommend products that I love.
Coincidentally, I am a volunteer recipe tester for MontYboca, an online community started by Chef Corso, who believes that while people are exploring outdoors, they should also be eating well. His recipe bank has over 100 recipes currently and the same day I received the jerky in the mail, I also received in my email a new recipe to test for Beef Jerky Stew. Woohoo!! So not only did I get a great snack, but I also got a snack that I could essentially turn into a meal. This recipe is being used with the permission of Chef Corso. For this recipe, I used the Old Trapper Old Fashioned Original. You can check out the original recipe here.
This recipe was tested at Coquina Lake in the Selway Wilderness in Idaho. Even though I live in Montana, our family spends a lot of in Idaho because we are literally on the border. This last trip, we went backpacking into the wilderness, and this soup was made over a jet boil stove and that's it. Let me tell you, this stew was so delicious, I made it again last weekend when we were car camping in the Magruder Corridor. It was filing, aromatic and soothing, perfect for the outdoors. I did make it a third time with a different brand of jerky and it didn't taste as well as when I made it with Old Trapper.
Please note, this post may contain affiliate links. By clicking on those links, I may earn a small commision at no cost to you.
Just a few quick notes. If you are backpacking, I would make this the first night so that the veggies are still fresh and use single-serve oil packets. Do not add salt until after you have tasted it because depending on the jerky or bullion brand, there is already salt. You can also prep the veggies beforehand so you do not have to pack a cutting board. Green onions can be substituted for shallots and to reduce weight, use dehydrated veggies. This is something you can easily make at home on your stovetop too.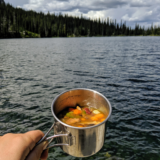 Beef Jerky Beef Stew
A great camping or backpacking recipe that is quick and easy, and a new twist on a classic. Recipe courtesy of Chef Cordso from MontYboca.
Ingredients
2

cloves

garlic

2

shallot

5

oz.

Old Trapper Beef Jerky

32

oz.

water

2

tbsp.

oil

1/2

tsp.

black pepper

2-4

oz.

baby carrots

2

oz

snap peas

6

mushrooms

2

cubes

beef bullion
Instructions
Chop garlic, shallot, carrots, snap peas and mushrooms.

Turn on burner to medium heat.

In pan over medium heat, add oil and then the veggies and black pepper.

Add bullion cubes, jerky and water.

Simmer 5-8 minutes until vegetables are done. For higher altitude, you may need to simmer for an extra 5-10 minutes.

** Chef Corso's tip: "add a splash of apple cider vinegar to make the flavor POP!"
This was delicious and fun to make. I love to cook outdoors. You could also try this at home, on a road trip, or even before a game. Give Old Trapper a try. It is excellent for a quick treat. Is there a recipe that you would try Old Trapper in? If you are interested in other delicious and creative backpacking and camping meals, be sure to check out MontYBoca, and even download their digital cookbook with a hard copy version coming in December. Be outside with no limits.